Azerbaijani, Croatian presidents meet in Munich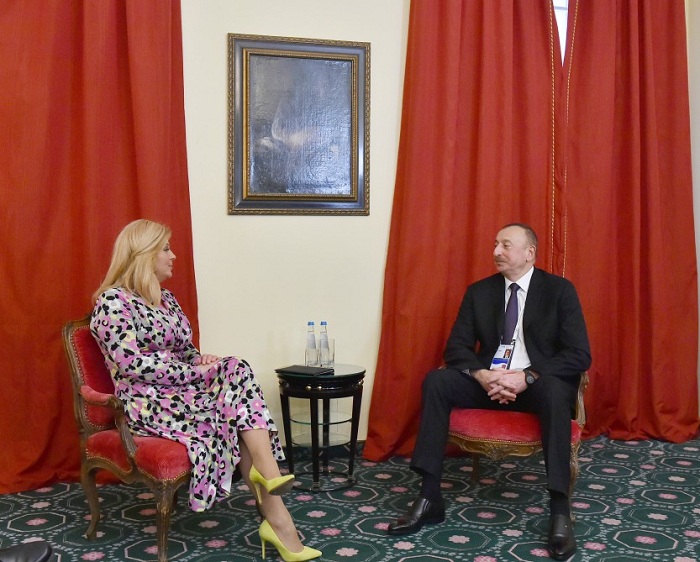 Azerbaijan's President Ilham Aliyev met with his Croatian counterpart Kolinda Grabar-Kitarovic in Munich Feb. 17.

Kolinda Grabar-Kitarovic shared her good impressions of her visit to Azerbaijan, noting that the meetings she had in Azerbaijan were efficient, AzVision.az reported.

The Croatian president said the Azerbaijani-Croatian business forum held during the visit has contributed to expanding relations between the two countries, noting that the intergovernmental commission will broaden the bilateral economic cooperation.

She said that her country is interested to cooperate with Azerbaijan in the energy and non-oil sectors as well as in the areas of information technology, shipbuilding, agriculture, transport, infrastructure, etc.

The Croatian president mentioned that President Ilham Aliyev's recent visit to the European Union was successful.

Noting that Azerbaijan is working on a new document with the EU, Kolinda Grabar-Kitarovic said this process will contribute to the further development of relations between Azerbaijan and the EU.

The Croatian leader invited President Ilham Aliyev to visit her country.

President Aliyev said the Azerbaijani-Croatian relations are developing successfully in various areas.

Highlighting Azerbaijan's important role in ensuring Europe's energy security, the president said Croatia can also take part in the projects initiated and joined by Azerbaijan.

Referring to relations with the EU, President Aliyev said that Azerbaijan closely cooperates with the European Commission.

Ilham Aliyev added that Azerbaijan intends to expand cooperation with the EU in the fields of political dialogue, security, technology, energy, multiculturalism, etc.

During the talk the sides also discussed the settlement process of the Armenia-Azerbaijan Nagorno-Karabakh conflict.

Kolinda Grabar-Kitarovic reiterated Croatia's support to the territorial integrity of Azerbaijan.