Azerbaijani President Ilham Aliyev has received OSCE Minsk Group co-chairs Pierre Andrieu (France), Igor Popov (Russia), James Warlick (U.S.) and Personal Representative of the OSCE Chairperson in Office Andrzej Kasprzyk.
President
Ilham Aliyev
said the Armenian leadership does not give up provocations.
"Armenia started large-scale military exercises in the occupied Azerbaijani lands less than two weeks after the presidents' Paris talks in October 2014. Armenian combat helicopters attacked Azerbaijani positions. The Azerbaijani side did not retaliate against it for a few days. At last, Armenian helicopters constantly maneuvering over our positions were destroyed as they openly attempted to strike our positions," said the president.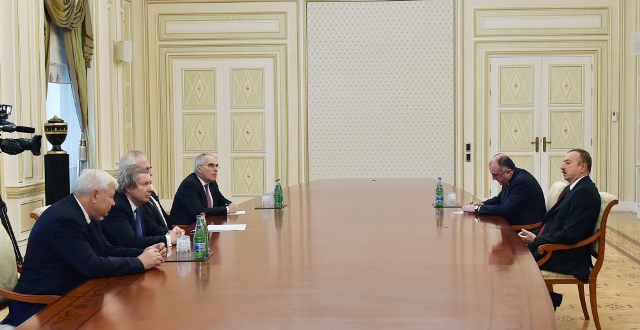 The Azerbaijani head of state said that on top of these, the Sargsyan's dictatorial regime recently resorted to another political provocation, stating that Nagorno-
Karabakh
is part of Armenia.
"Unfortunately, this intolerable statement, which is even in contrast with Armenia's official position, was not met with any reaction from the co-chairs," the president stressed.