Armenian police used excessive force against peaceful protesters on July 29, 2016 and assaulted journalists reporting on the demonstrations, Human Rights Watch said today.
Police used stun grenades, which wounded dozens of demonstrators and some journalists, some severely. The police also beat journalists and protesters and detained dozens of people.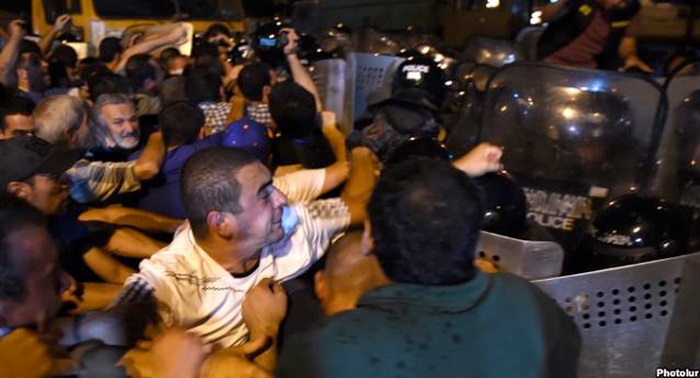 "Armenia's investigation of the police assaults on demonstrators on July 29 should be swift and thorough," said Giorgi Gogia, South Caucasus director at Human Rights Watch. "While the police have an obligation to maintain public order, they do not have carte blanche to use violence against people gathered to peacefully express their views."
Protests have been ongoing in Armenia since July 17, when armed men from a radical opposition group seized a police station in Yerevan's Erebuni district, killing one policeman and taking several hostages, demanding political concessions from the government. Before the gunmen surrendered on July 31, public support for them grew into a wide protest movement in Yerevan.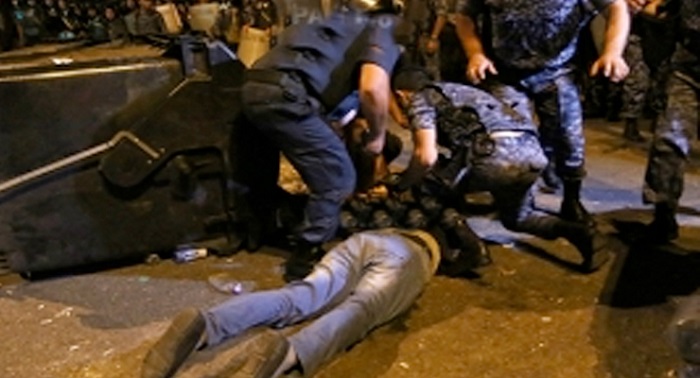 Human Rights Watch spoke with victims and witnesses of the violence. Several said that at about 11 p.m., police rapidly fired numerous rocket-projected stun grenades and threw hand-held stun grenades into the peaceful crowds near the police station in the Erebuni district. When the grenades landed, they emitted thick smoke and a loud sound, stunning many people for several seconds. The grenades then exploded, causing first- and second-degree burns and fragmentation wounds on the legs of people standing nearby.
Human Rights Watch interviewed several injured journalists and protesters in a Yerevan hospital. "Suren," 25, whose name was changed for his protection, had just joined the protest when a stun grenade landed at his feet. He was briefly blinded by thick smoke and felt severe pain in his head. As he struggled to flee, he saw that his pant legs were almost entirely burned and his legs were covered in blood. Suren has 30 lacerations and first- and second-degree burns covering both legs. Doctors removed five plastic fragments from the stun grenade from his legs. He was not able to walk normally at the time of the interview.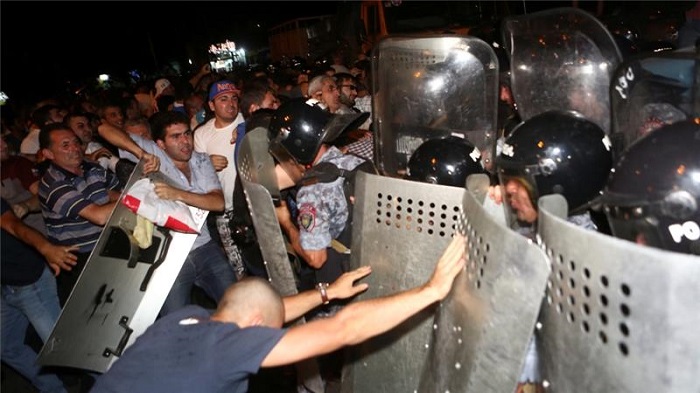 Interviewees told Human Rights Watch that the crowd was not attempting to cross the cordon when police started launching the stun grenades. Video footage of the events reviewed by Human Rights Watch supports the witness accounts.
While police could legitimately seek to prevent protesters from getting too close to the police station, they were still bound to uphold human rights and respect standards on the use of force, Human Rights Watch said.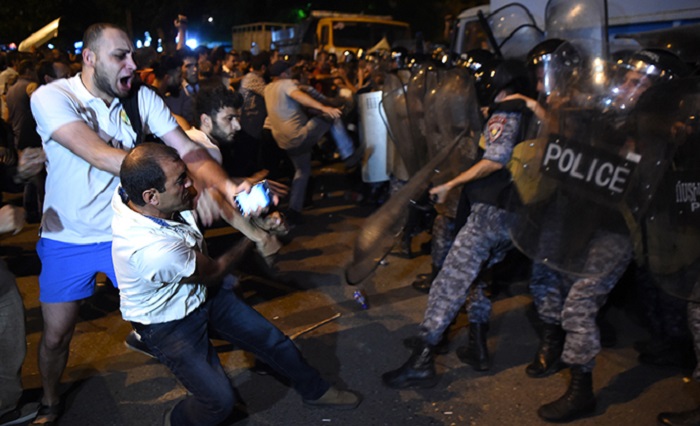 Security forces should not fire stun grenades directly into crowds. Although the grenades are technically non-lethal, their fragmentation can foreseeably cause serious injuries in an indiscriminate manner, exposing non-violent protesters and on-lookers to grave harm. Polystyrene in some stun grenades will melt in the heat created when they are discharged, and cause serious burn wounds. Human Rights Watch documented that many protesters had first- and second-degree burns.
"Police should not interfere with the legitimate work of journalists, let alone attack and punish them for doing their jobs," Gogia said.
More about: