AzVision.az presents the interview.
Correspondent: We, Russians recall this tragedy and commemorate this day with great reverence.  We offer our sincere condolences to families of those killed in Khojaly. What would you like to say to the Azerbaijani people? 
President Ilham Aliyev: First of all, I would like to thank your television channel for coming to Baku on a day like this to be with us and to express your position on the tragedy of the Azerbaijani people. I appreciate this so much and I am grateful to you for this.
Today marks one of the bloodiest pages in the history of the Azerbaijani people, the day of genocide of Azerbaijanis. 26 years ago Armenia committed genocide against Azerbaijanis. As a result of this, 613 civilians were killed, 106 of them were women, 63 were children. More than 1200 civilians were captured and tortured, nearly 500 became disabled, and there is no any information about 150 civilians. They are considered missing, but there is a high probability that they were killed. There are a lot of footages and images on that terrific day, on that bloody tragedy and witnesses who miraculously survived. This was a manifestation of the Armenian fascism. This was a manifestation of barbarism.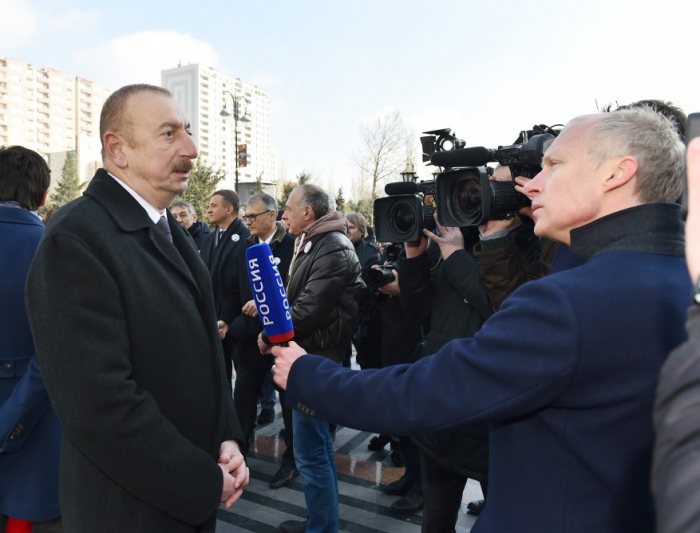 All the photo and video documents bore evidence of this large-scale tragedy. We remember this. We will never forget it. Azerbaijan must become stronger so that this tragedy is never repeated. You asked about my feelings today. My feelings are those that every Azerbaijani has – it is grief and distress for the innocent people who were killed, pain for the victims, at the same time, determination to strengthen our country. We must strengthen the economic, military potential of our country so that the people of Azerbaijan never again face a tragedy like that.
Correspondent: Thank you for this interview and for finding time to meet with us.
President Ilham Aliyev: Thank you.
Correspondent: This is extremely sad for the state.
More about: Ilham-Aliyev