Oklahoma Governor Kevin Stitt has signed a relevant proclamation, AzVision.az reports.
The document notes that in 2019, the Republic of Azerbaijan commemorates 101 years of independence, 100 years of diplomatic service, 25 years of NATO partnership, and a 16 year enduring relationship with Oklahoma supporting the State Partnership Program.
It stresses that in 1917, following the Bolshevik Revolution, Azerbaijan declared themselves independence and on May 28, 1918 formed the Azerbaijan Democratic Republic (ADR).  
"Azerbaijan became a Soviet Socialist Republic, while maintaining their political independence. On October 18, 1991, following the collapse of the Soviet Union, Azerbaijan officially became the Republic of Azerbaijan," says the proclamation.
"Azerbaijan enacted numerous progressive administrative transformations by acknowledging the significance of women's roles and rights. Azerbaijan was the first Muslim majority nation to grant women the right to vote."
The proclamation further points out that on March 2, 1992, the Republic of Azerbaijan became the 168th member of the United Nations and was elected to sit on the UN Security Council 2012-2013.
It also underlines that on September 11, 2011, Azerbaijan was one of the first countries to offer sympathy, compassion, support and assistance to the U.S. to fight terrorism. In 2013, Azerbaijan was formally partnered with the Oklahoma National Guard through the State Partnership Program, linking commonalities in economy, oil, natural gas and agriculture.   
The document says that Azerbaijan's commitment to peace, prosperity, security, and stability has projected themselves as a leader within the region. Azerbaijan's leadership contributes to energy diversification, exploration, aid and opportunity.
The proclamation describes Azerbaijan as friend, ally and partner of the United States.  
The relevant proclamation was presented to Azerbaijani Ambassador to the U.S. Elin Suleymanov by the delegation of the Oklahoma National Guard during the event recently held in Washington, D.C. to mark the 101st anniversary of the Azerbaijan Democratic Republic and the 100th anniversary of Azerbaijan's diplomatic service.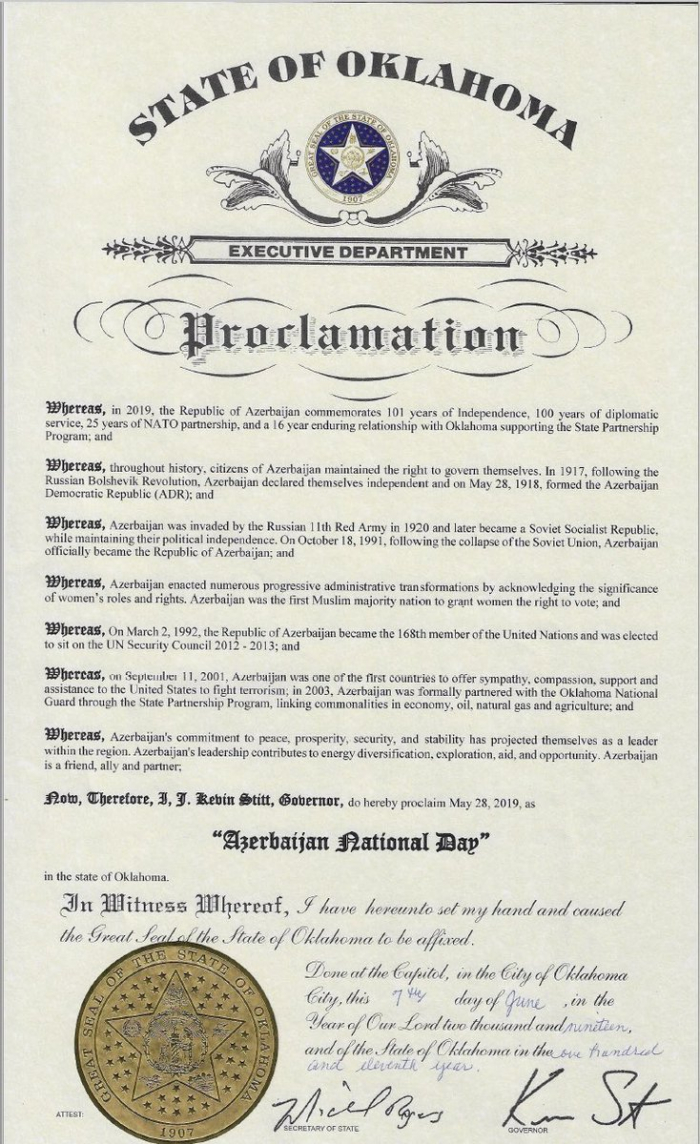 More about: Azerbaijan Elin-Suleymanov United-States