July was likely the hottest month ever recorded following June heatwave, says the latest data, released by the World Meteorological Organization (WMO) and the Copernicus Climate Change Programme.
Unlike July 2016, El Niño did not contribute to the extreme heat in July 2019. WMO Secretary-General Petteri Taalas warns, "It is the reality of climate change. It is happening now and it will worsen in the future without urgent climate action".
Also, UN Secretary-General António Guterres who drew attention to the temperature records observed in New Delhi, Anchorage, Paris, Santiago, Adelaide and the Arctic Circle, highlighted the significance of taking action on climate change."If we do not take action on climate change now, these extreme weather events are just the tip of the iceberg. And, indeed, the iceberg is also rapidly melting," he said.
The extreme heat across the globe driven by climate change and global warming threatens human health, cause wildfires in Greenland, Alaska and Siberia, melt the Greenland ice sheet and prolongs drought conditions.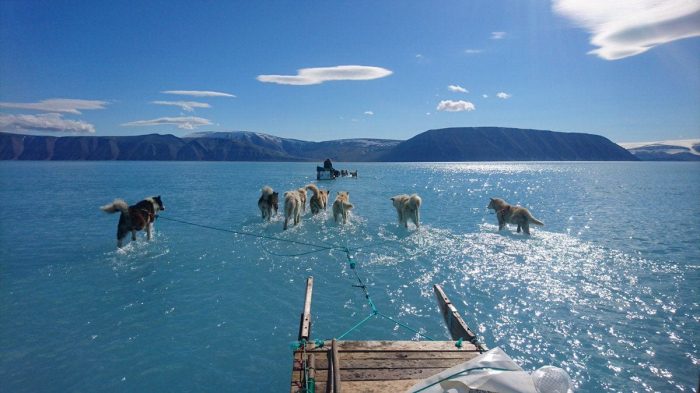 Steffen Olsen, an Arctic researcher with the Danish Meteorological Institute, and dogs set out to retrieve oceanographic moorings and a weather station over meltwater topping sea ice in northwest Greenland. (Steffen Olsen)
The World Health Organization has found that nearly 125 million people have been vulnerable to heatwaves between 2000 and 2016 which makes the duration of the average heatwave 0.37 days longer than the period between 1986 and 2008. On the other hand, the Intergovernmental Panel on Climate Change said, "Limiting warming to 1.5°C rather than 2°C could result in 420 million fewer people being exposed to severe heatwaves".
In recent weeks, Greenland has seen the most expansive ice melt running near to the record from July 2012 according to the Polar climate scientists.
In July, the heatwave-related wildfires had grave impacts on the ecology and air quality of for hundreds of kilometres in Siberia, the Russian Federal Forestry Agency revealed.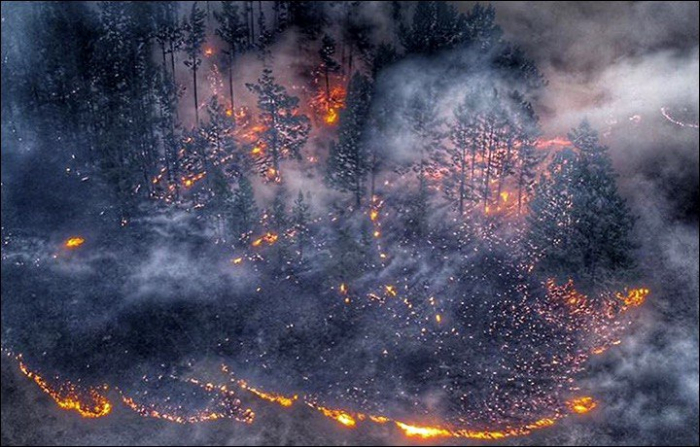 Forty-five forest fires are currently active around Irkutsk, Siberia; twenty were extinguished overnight according to the local officials.(Svodka38)
The Deutscher Wetterdienst stated that severe drought conditions exacerbate food and water shortages, forest fires and vessel traffic restrictions.
Jean-Noël Thépaut, head of the Copernicus Climate Change Service underlined the role of greenhouse gas emissions on global warming. "With continued greenhouse gas emissions and the resulting impact on global temperatures, records will continue to be broken in the future", he said.
"July has re-written climate history, with dozens of new temperature records at local, national and global level," said WMO Secretary-General Petteri Taalas.
Relatively, France experienced an all-time high-temperature record in Paris reaching 42.6 degrees Celsius in July. Belgium, Germany, Luxembourg, the Netherlands and the United Kingdom also joined France having the hottest day on record on 25 July with temperatures over 40 degrees Celsius.
According to the WMO, 2015-2019 is presumed to be the five top hottest years ever recorded.
More about: heatwave