- Mr Ambassador, it has been several months since you started your diplomatic activity in Azerbaijan. How did you find our country?
When I first arrived in Baku in June, I had the opportunity to join the familiarisation trip to Sheki organised by the Ministry of Foreign Affairs of Azerbaijan. It is a very beautiful region rich in history and cultural heritage. I also had an opportunity to visit Lankaran, Lahic, Gabala, Gobustan, Shamakhi and Quba.
Azerbaijan is a very beautiful country. The geographical landscape here is unique and rare. I like the fact that Azerbaijan preserves its historical and cultural heritage and assimilate it in the country's modern development. Baku is the perfect example as it has the best modern infrastructure and historical monuments.
Besides that, Azerbaijan has the friendliest people that I have ever meet. The people here are very friendly, helpful and kind. I had the experience where a stranger is willing to help me even with the language barrier.
Azerbaijan also has the most amazing gastronomy delicacies in the world. The food here is outstanding and the country has the best lamb in the world. There are so many good things about Azerbaijan and I am very much looking forward to serving here.
- Earlier, you served as a diplomat in many countries. What are your expectations as Malaysian ambassador to Azerbaijan? 
Before assuming my duties as the Ambassador of Malaysia to Azerbaijan, I was in Peru, Belgrade and Dubai.
During my tenure here, I hope to add more substance to the current works in enhancing our bilateral relations. I am looking forward to expanding the existing cooperation by including the people-to-people connectivity as my focus.
I will endeavour to take more proactive approaches to bolster bilateral relations and cooperation between Malaysia and Azerbaijan. Malaysia's establishment of the Embassy of Malaysia in Baku, Azerbaijan on 1 April 2014 is a testament to Malaysia's commitment towards this endeavour. Our economic and politic ties are robust and it is growing even stronger. I wish the two countries could maintain good relations and develop it further.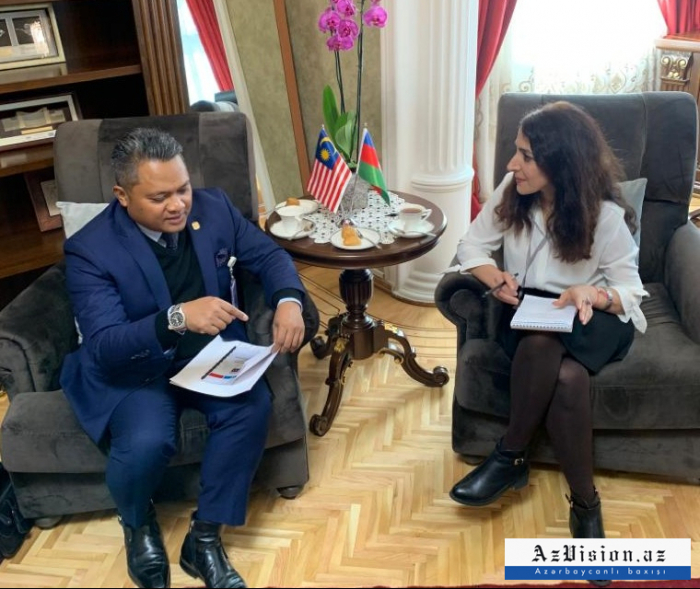 - How do you assess the current level of cooperation between our countries?
Malaysia and the Republic of Azerbaijan have always and continue to enjoy a close and friendly relationship since the establishment of the diplomatic relations on 5 April 1993. Azerbaijan established its diplomatic mission in Malaysia in June 2007, while Malaysia established its Embassy in Baku on 1 April 2014.
Despite the distance, Malaysia and Azerbaijan share similarities in many aspects. Both Malaysia and Azerbaijan are Muslim majority countries; therefore, we share many common characteristics and practices in our culture and religion. Both countries are members of the Non-Aligned Movement (NAM), Organisation of Islamic Cooperation (OIC), as well as, the United Nations (UN). Malaysia and Azerbaijan have shared and continue to share a common position on many international issues of mutual interest at the multilateral fora.
- Malaysian Prime Minister Mr Mahathir bin Mohamad participated in the Non-Aligned Movement (NAM) Summit recently held in Baku. On the sidelines of the summit, the prime minister met with Azerbaijani President Ilham Aliyev. What do you think of this meeting?
Overall, the visit by the Prime Minister was a big success. Both the Prime Minister and Foreign Minister were very happy with the visit to Azerbaijan. I would say the visit here is thus far the most successful one. On behalf of the Prime Minister, I would like to extend my sincere congratulations to the government of Azerbaijan for the excellent hosting of the NAM Summit. Malaysia would also like to thank the great hospitality that was extended to our delegation during the meeting.
Both Malaysia and Azerbaijan are highly interested in strengthening existing good relations between the two countries. The meeting between the Prime Minister and the President is a testament to our countries strong bilateral ties.
Cooperation in the fields of education, culture, tourism, trade, as well as, science and technology would conduce to strengthening friendly relations between the countries. There are a lot of follow-ups to be done after the meeting particularly in enhancing the people to people connectivity, as well as exploring the potential collaborations in non-oil sectors in increasing the bilateral trade and cooperation.
Connectivity is very important in a nation's or region's economic development, as it provides overall accessibility for the movement of goods and people promptly. The transport sector plays a major role in ensuring the economic connectivity within the country, as well as, regionally and internationally.
Malaysia and Azerbaijan must work towards strengthening the economic relations as indirectly it will also improve the connectivity among our regions and contributes to the development of economic zones in Asia and beyond. At the same time, it would also be beneficial for our growing economies, as it will provide the linkages and platforms at bilateral, regional and multilateral levels.
People to people connectivity will also enhance business, social and cultural exchange between Malaysia and Azerbaijan, which will further integrate the growing regional community by developing infrastructures in the region and improve trades.
With further exchanges of visits and the signing of Agreements and Memorandums of Understanding, we are confident that the bilateral ties and cooperation between Malaysia and Azerbaijan will be further strengthened. Both countries have worked very hard to ensure that bilateral political and economic relations improve even further for mutual benefit.
Malaysia is also looking forward to receiving President Ilham Aliyev to Malaysia and the ASEAN Region, for his inaugural visit. This very important visit would provide the impetus to further enhance bilateral relations.
- What about cooperation in the economic sphere? 
Malaysia and Azerbaijan are located geographically far from each other and this condition makes it difficult to export and import certain goods.
It is important to increase the bilateral trade and cooperation, as there is existing potential for both countries to explore and broaden the scope and dimension in the areas of non-oil sectors especially in Islamic banking, science & technology, information technology & multimedia, education as well as tourism.
In 2018, the bilateral total trade between Malaysia and Azerbaijan was recorded at USD56.3 million, an increase of 350.4% as compared to USD12.5 million in 2017. Total exports were recorded at USD56.1 million in 2018 as compared to USD11.7 million in 2017. The positive growth is contributed to the increase in imported machinery, equipment and parts products to Azerbaijan. Meanwhile, total imports were recorded at USD100, 000 in 2018 as compared to USD800,000 in 2017. The trade balance was in Malaysia's favour of USD56 million.
The establishment of the Embassy of Malaysia has paved the way for closer cooperation between Malaysia and the Republic of Azerbaijan in the areas of mutual interest, namely trade and investment.  PETRONAS' presence showed that Malaysia sees Azerbaijan as a fast-developing country in the region and recognised the importance and its engagement within the region.
Malaysia has created a positive investment climate for foreign investors in Malaysia. We will encourage Azerbaijani investors to come and see the developing business in Malaysia, invest and explore the many opportunities our economy has to offer. We would encourage Chambers of Commerce, as well as, Azerbaijani businesspersons to visit Malaysia and we would be more than willing to arrange the meetings in Malaysia.
We would also like to encourage more Malaysian businesses to be involved in the dynamic economic sector in Azerbaijan. With the diversification of Azerbaijan's economy, we believe that our entrepreneurs could explore the potential trade and investment collaboration between Malaysia and Azerbaijan business sectors.
- Malaysia and Azerbaijan enjoy energy cooperation, as well. As it is known, Malaysia's PETRONAS has made investments in Azerbaijan. Is there any plan to expand energy cooperation?
Yes, if conditions are conducive, we have and continue to encourage our national oil and gas company, PETRONAS to be involved in the dynamics oil and gas sector in Azerbaijan. PETRONAS is also looking at potential business opportunities in Azerbaijan.
PETRONAS is actively involved in Azerbaijan's oil and gas industry. The company had acquired 15.5% stake in the Shah Deniz II production sharing agreement operated by a consortium of companies, 15.5% share in the South Caucasus Pipeline Company (SCPC), 15.5% share in the SCPC holding company, and 12.4% share in the Azerbaijan Gas Supply Company (AGSC).
Total expenditure by PETRONAS in Azerbaijan thus far is estimated at USD 5 billion.
- At his meeting with the Azerbaijani president, the Malaysian prime minister noted that the bilateral ties cannot be considered satisfactory as the Malaysian people know less about Azerbaijan. What should be done to increase people-to-people connectivity? 
This question was inaccurate, as it did not reflect the actual message that was conveyed between the Honourable Prime Minister and His Excellency Mr President.
The Prime Minister stated that due to the geographical distance, many Malaysians do not know much about Azerbaijan.
Besides the government-to-government and business to business engagements, people-to-people connectivity is another important element that needs to be done first to create awareness among our peoples.
'Tak Kenal Maka Tak Cinta' is a Malay proverb that means 'you can't love what you don't know'. Both Malaysia and Azerbaijan need to work on the people-to-people connectivity, as the growing interactions will increase the interest in getting to know our countries.
- As you know, Azerbaijan pays special attention to boost the tourism sector. What about cooperation in this sphere? Are there any plans to launch Baku - Kuala Lumpur direct flight?
Malaysia and Azerbaijan have vast potentials in the tourism industry. Both countries could explore the possibility of establishing cooperation in the field of tourism to encourage people-to-people interactions.
Malaysia welcomes more tourists from Azerbaijan to visit Malaysia as it offers many beautiful and interesting places. Malaysia also offers many excellent yet affordable accommodations and facilities. In 2018, Malaysia received a total of 25.8 million tourists' arrivals which generated a total of RM84.1 billion or USD20.31 billion receipts.
The newly launched Sharjah-Kuala Lumpur route by Air Arabia from 1st July 2019 has the potential to increase the number of visitors to both Malaysia and Azerbaijan.
All Azerbaijani passport holders enjoy a 30-days visa-free to enter Malaysia whereas, Malaysian passport holders are required to apply for an online visa as well as Visa on Arrival (VOA) with a maximum validity of 30 days.
There have been talks to have a direct route for the Southeast Asia region.  Both Malaysia and Azerbaijan could benefit if the Baku-KL-Baku sectors as it will facilitate the people-to-people connectivity and promote Malaysia and Azerbaijan as a top tourist destination in our respective regions. I was informed that both Air Asia and Azerbaijan Airlines are seen as potential carriers to expand the tourism cooperation between our countries. The working progress now is between the business entities for them to explore the vast prospects and opportunities.
In my opinion, if this thing becomes a reality, Baku has the potential to become the main hub for the surrounding regions as the Heydar Aliyev airport has the facilities and capabilities to expand its operations.
- What is Malaysia's position on the Armenia-Azerbaijan Nagorno-Karabakh conflict?
Malaysia has always been a strong supporter of Azerbaijan when it comes to the Nagorno-Karabakh conflict. Malaysia is a country that stands for truth and justice. Therefore, we continue to defend the position of the Government of Azerbaijan on this issue, in particular, on the issue of territorial integrity.
Being a member of various international organizations such as the United Nations (UN) and Organisation of Islamic Cooperation (OIC), both countries have shared and continues to share a common position on many international issues of mutual interest. 
Malaysia strongly supports the four (4) resolutions (UNSC 822, 853, 874, 884) adopted by the United Nations Security Council (UNSC) that demanded immediate and unconditional withdrawal of the Armenian troops from the territory of Azerbaijan. At the same time, Malaysia also co-sponsored the Resolution 62/243 entitled 'The Situation in the Occupied Territories of Azerbaijan' during the 62nd Session of the United Nations General Assembly (UNGA) on 14 March 2008. The resolution became the fifth UN document and the first UNGA document concerning Nagorno-Karabakh.
Malaysia will continue to support international efforts for the immediate, complete and unconditional withdrawal of all Armenian forces from all occupied territories of the Republic of Azerbaijan.
- Could you brief us about the "Visit Truly Malaysia 2020" campaign?
Malaysia has launched the Visit Truly Malaysia 2020 campaign which targets 30 million tourist arrivals. The focus of Visit Truly Asia Malaysia 2020 is ecotourism, arts and culture. A central element is the welcoming spirit of the people of Malaysia.
Malaysia welcome visitors from all over the world to experience the uniqueness and beauty of Malaysia's ecotourism attractions, including the rainforests, mountains, islands and beaches. Visitors will have the opportunity to immerse themselves in Malaysian diverse culture, arts, heritage and history.
The entire country is pulling together to make Visit Truly Malaysia 2020 a reality. Government ministries and non-governmental organisations alike have pledged their support, alongside corporate partners including Sharp Electronics, Malaysia Airlines, AirAsia, Firefly, and Malindo Air. These four airlines will all be flying with the new logo brandished on their tailfins.
Malaysia Airports has partnered with Condor Air, Air Arabia and Busan Air in launching new routes into Malaysia from key international destinations. To speed things along, Visa on Arrival facilities are now available in 13 entry points in Malaysia across land, air and sea, ensuring a hassle-free experience for tourists.
Parvana Sultanova
AzVision.az
More about: Azerbaijan Malaysia