The article reads: "The Azerbaijan Democratic Republic was the pioneer democratic country in the region and whole of Muslim World too. It consolidated true democratic norms which have further been institutionalized in modern Azerbaijan.
Electioneering has now entered into a decisive mode. All political parties are rigorously participating in the upcoming parliament election to be held on February 9, 2020. Azerbaijan's political horizon is vivid reflection of its diversified culture, rich heritage and traditions. Almost 19 political parties are taking part in the ongoing electoral process in Azerbaijan.
Azerbaijan is now all set to hold snap Parliamentary elections on February 9 to elect 125 members' 'Milli Meclis' National Assembly. The electioneering is gaining momentum with every passing day as the high powered independent Central Election Commission has extended all the required facilities to the contesting candidates for running the campaign for free, fair and transparent elections. And on their part, masses are fully prepared to take the advantage of the existing transparent and democratic environment for exercising their voting right , which in turn will undoubtedly, enhance Azerbaijan's credibility and integrity not only at the regional but international arena.
As many as 19 political parties have nominated 457 candidates; in all 2431 candidates are in the run. According to Dr. Mahmood ul Hassan, a prominent Regional Expert, participation of a large number of independent candidates in the election is reflective of democratic and political maturity of country's system as well as the society. He adds that the constitution of Azerbaijan guarantees political freedom, opportunities for competition and conduct of transparent elections. He adds that Azerbaijan is an icon of 'secular democracy' in the entire Muslim world wherein elections are not 'marred' with alternative choices.
Continuation of fair, free and transparent elections are important for achieving high levels of politicization and democratization in the civilized world and Azerbaijan is undoubtedly a civilized country which believes in freedom of association, provision of basic human rights, equality before law and above all fair play in all respect of life and governance too. Azerbaijan has been holding elections on regular basis which has put it on the right path of political maturity and economic prosperity. Hopefully this ongoing electoral process will bring greater political stability, continuation of economic reforms and high levels of good governance.
Analysts are of the opinion that the elections will largely contribute to making the democratic system stronger, vibrant and masses friendly. The electoral system has been organized at the highest level by providing a tolerant environment, equal conditions for representatives of all peoples and religions. Moreover, the conditions for holding democratic elections, institutional reporting and a perfect legislative framework will allow the holding of transparent and fair elections'.
It is worth mentioning that earlier President Ilham Aliyev dissolved the Parliament on the demand of the ruling party for the snap parliamentary elections, which in fact will be a way forward for further strengthening the political process in the country and will definitely yield the fruit to be benefitted by the common people.
Meanwhile, Central Election Commission of Azerbaijan has received requests from about 2,000 local and foreign observers. An Independent Media Center "Seçki 2020" of the Central Election Commission has also been set up in Baku. International observers from the Inter parliamentary Assembly of the CIS Member States will also be there to monitor the elections. Members of the Ukrainian Central Election Commission will also visit Azerbaijan to monitor the entire exercise. The long-term observation mission of the OSCE Office for Democratic Institutions and Human Rights (ODIHR) has already arrived in Azerbaijan.
The Republic of Azerbaijan is on the path of gigantic overhauling of the "system" through political transition i.e. Parliament Election". Politics is the biggest leveler whereas economics provides an ideal platform to achieve highest levels of prosperity, civility, comfort of life, provisions of basic necessities of basic needs. In modern democratic setup elections is the only way forward to legitimatize socio-economic-politico plans and policies. The upcoming snap parliamentary election is crucial for existing political system and ongoing economic reforms as well."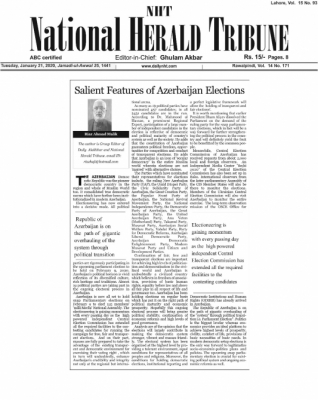 AZERTAC
More about: Azerbaijan Pakistan election