A coronavirus vaccine being developed by the University of Oxford appears to be safe and has successfully triggered a strong immune response in trials involving 1,077 people. The results of Phase I/II trials were published in the scientific journal, The Lancet, and they have raised hopes that a safe, effective and accessible vaccine against coronavirus will be attainable. The trial provoked a T cell response within 14 days of vaccination (white blood cells that can attack cells infected with the Covid-19 virus) and an antibody response within 28 days.
So far, commitments to supply more than 2 billion doses of the vaccine have been agreed with the United Kingdom, the United States, Europe's Inclusive Vaccines Alliance, the Coalition for Epidemic Preparedness, Gavi the Vaccine Alliance and the Serum Institute of India. Named ChAdOx1 nCoV-19, the vaccine is being developed at an unprecedented pace, and according to The Guardian, it's just one of more than 140 candidates listed by the World Health Organization. A successful vaccine usually requires years of development before it gains approval for production but given the current situation, several candidates have already made it into the advanced stages of testing. As of July 20, 140 were in the pre-clinical stage where the vaccine is given to animals to see if it triggers an immune response.
Phase 1 involves the candidate being given to a small group of people to determine whether it is safe and the WHO lists 19 potential vaccines as being at that stage. In phase 2, currently involving 11 candidates, it is distributed to hundreds of people to determine further safety factors and issues regarding dosage. Phase 3 is the final hurdle where thousands of people are given the vaccine where final safety questions are confirmed, particularly when it comes to side effects. For example, the Oxford University's vaccine led to no dangerous side effects but 70% of people did develop a headache or fever which researchers say can be managed with paracetamol. Currently, three vaccine candidates are in the third and final phase of testing.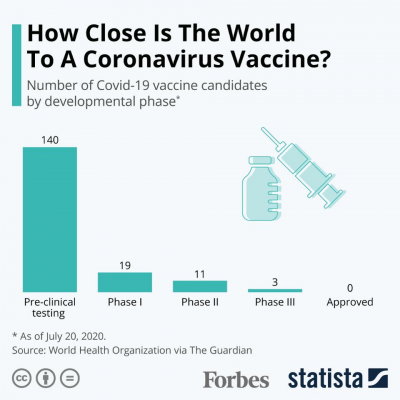 Niall McCarthy is a Statista data journalist, covering technological, societal and media topics through visual representation. His work at Statista has been featured in publications including Mashable, the Wall Street Journal and Business Insider.
The oriignal article was published on Forbes.
More about: coronavirus