Maryam Pashinyan, the daughter of Armenian Prime Minister Nikol Pashinyan, shared a pessimistics post on her Facebook account regarding the battles in the Nagorno-Karabakh regions, AzVision.az reports.
The post reads as follows:
"Our dreams and goals vanished. Our dreams were about our soldiers and our motherland. "


Maryam  Pashinyan's Facebook post caused serious dissatisfaction among Armenian social media users. The Armenian media has already made it a topic of discussion stating that the Prime Minister's family is in a pessimistic atmosphere.
Even news portals published articles highlighting the significance of voicing more patriotic ideas instead of pessimistic ones. In this regard, the Armenian people did not welcome the pessimistic expressions from the first family of their country.
Note that Maryam Pashinyan also came under serious pressure from social media. Armani social media user commented on the post stating that it was Maryam's father, a slave of Soros, who dragged the country into the abyss.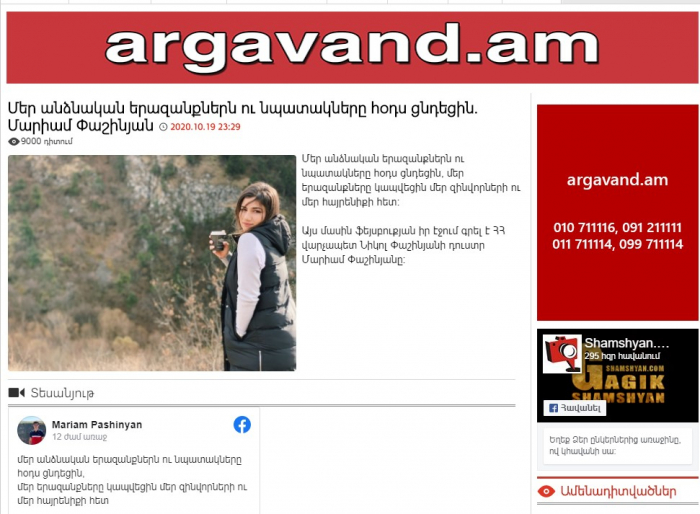 A user named Surik Saroyan's comment says: "Unfortunately, your dreams are not our national dreams, but Soros or neoliberal" dreams "...".
More about: Armenia