Regarding the Nagorno-Karabakh conflict, Jerome Lamber noted that the conflict stems from the occupation of a large part of Azerbaijan's territory - the Nagorno-Karabakh region and seven surrounding regions - since the early 1990s. Despite the UN Security Council resolutions requiring the immediate withdrawal of Armenia from the occupied territories of Azerbaijan, the occupation has been going on for 30 years. France voted for these resolutions together with the United States, Russia and China, and our country tried to mediate to implement the decisions of the international community. However, these mediation efforts have not yielded any results. The occupation of Azerbaijani territories is not accepted by any country in the world. Only Armenia is interested in the continuation of this conflict for domestic political reasons.
Many incidents have happened during these years of occupation. However, the conflict has not yet reached such intensity as the bombing of Azerbaijani cities in the occupied zone and beyond. The escalation of conflict is worrying.
The French MP shared the interview of the President of Azerbaijan published in Le Figaro newspaper on his Facebook page.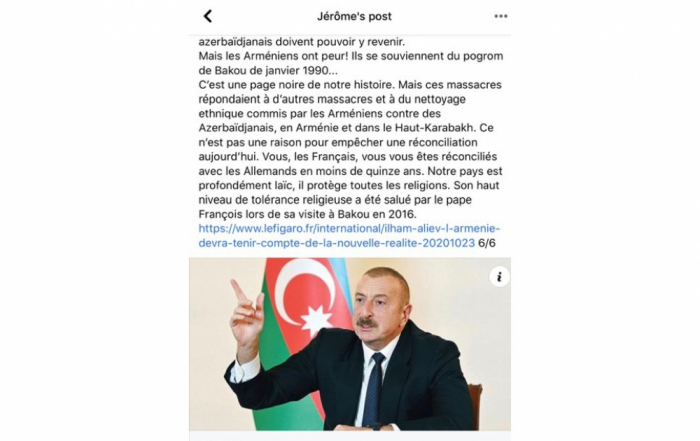 More about: