Occupying Armenia and the Armenian lobby abroad also continue their terrorist activities as part of information war. Media representatives covering the Nagorno-Karabakh in an unbiased manner are regularly threatened and severely insulted by the Armenian lobby. This time Peitro Del Re, a reporter of the influential Italian newspaper La Repubblica, came under abusive attacks of the Armenian lobby. The Armenians, who have posted numerous threatening comments on the social media accounts of both the newspaper and journalists, are openly trying to clamp down freedom of expression.
Assistant to the President of Azerbaijan, Head of Foreign Policy Affairs Department of the Presidential Administration Hikmet Hajiyev strongly deplored the threats and attacks by the Armenian lobby against journalists, free media and freedom of expression.
Hajiyev called on the Reporters Without Borders (RSF) and the OSCE Representative on Freedom of the Media to condemn physical, verbal threats and abusive personal attacks against professional journalists, who cover objective realities of the Armenia-Azerbaijan conflict. The president aide also urged respect for freedom of expression. It should be noted that this is not the first attack by the Armenians on free media.
Previously, employees of the French TF1 TV channel and The New York Times also came under abusive attacks of the Armenians. It is no coincidence that in recent days, most international organizations, foreign media outlets, as well as politicians, have been taking an active part in conveying the true voice of Azerbaijan to the world community.
For this reason, Armenians are targeting the media outlets, politicians and public activists around the world, who are covering the truth about the conflict, disseminating unbiased information and even demonstrating a neutral and balanced position. The Armenians continue to conduct smear campaigns against those do not act in favor of the occupying country and the Armenian lobby, threatening them with the terrorist organization ASALA.
Having suffered a heavy defeat on the battlefield, Armenia is striving to clamp down free media, objective politicians and public activists around the world. All this once again demonstrates that Armenian activists are supporters of fascism and terrorism in the civilian world.
AzVision.az presents the photo facts of the abusive attacks by the Armenians against La Repubblica.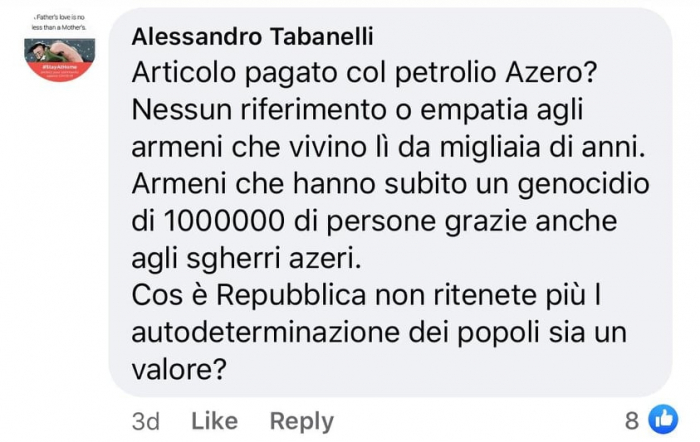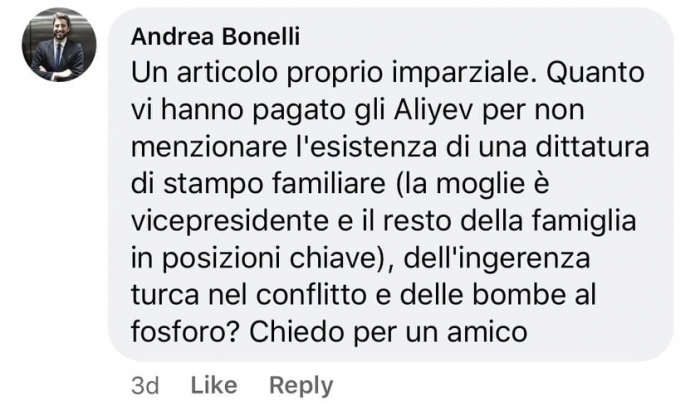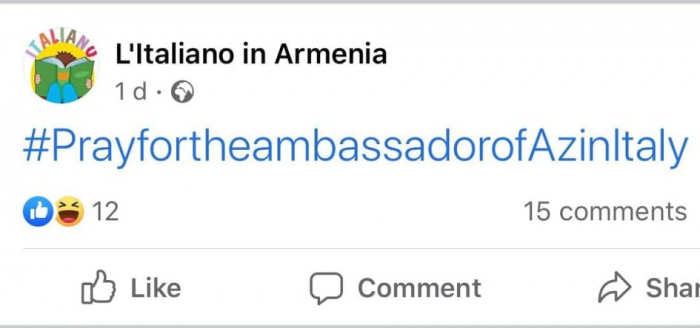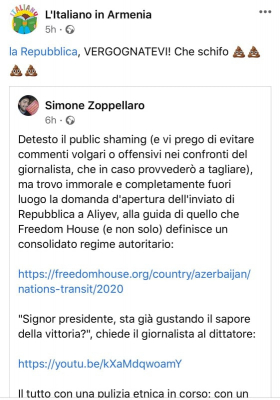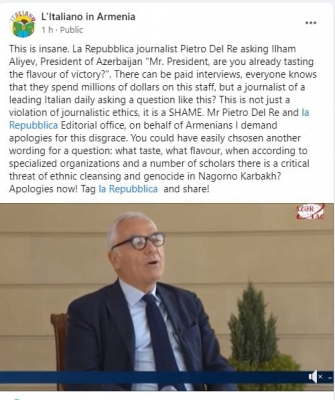 More about: #ArmenianProvocation