As response action to the reported 66 emergency calls ANAMA in close coordination with  the specialists of the Ministry of Internal Affairs conducted 65 emergency and operational clearance field missions. As reported 55 pieces of unexploded ordnance and 119 pieces of exploded shell remnants were found as a result of the missions.
ANAMA's demolition team neutralized 12 pieces of unexploded ordnance and 2 pieces of bomblets. Mine Awareness Specialists  conducted  mine  risk  awareness  campaign  among 52 247 civilians.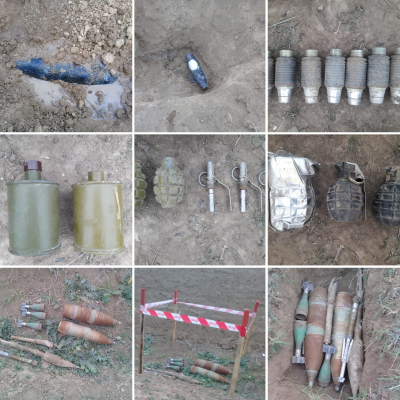 In general, from September 27 to November 19, 2020, ANAMA executed 1410 special operational emergency field visits as response action to 1 872 signals (operational calls). In line with the agreed Plan of Action special fact finding missions were executed in the residential areas near the oil pipeline, territory of Mingachevir TPP, Southern Caucasus Pipeline (SCP), arable and pasture areas, roadsides, forests, schools in Aghdam, Agdash, Agjabadi, Barda, Beylagan, Bilasuvar, Jabrayil, Goranboy, Naftalan, Kurdemir, Fuzuli, Tartar, Tovuz, Shamkir, Hajigabul, Zardab, Khizi, Khojavend, Oghuz, Gebele districts, Ganja and Mingachevir cities, as a result of which 621 unexploded ordnance (UXO),
4 228 pieces of anti-personnel mines, 1033 pieces of anti-tank mines, 1736  pieces  of  anti-tank mine explosive fuses, 76 pieces of detonators, 1 387  pieces  of  9N235  type bomblets (cluster munitions), 10 730 bullets of various calibers, 2 pieces of  gas-grenades,  168 grams of black gunpowder , 26 pieces of meteorological radio direction detectors for military purposes, 7 drones, 2 missiles schemes and 1 453 exploded missile parts  were  found.
More about: