Within the scope of the implemented activities on the improvement of logistic support of the Azerbaijan Army, acceleration of mine-clearance operations in the liberated from occupation territories, and strengthening of safety precaution, the next batch of the latest engineering machinery and equipment purchased from Turkey was delivered to Azerbaijan.
So far, Azerbaijan have been provided with 7 MEMATT vehicles. The machinery and equipment, transferred into the armament of Azerbaijan Army's engineer-sapper units stationed in liberated from occupation territories, will be used in the work on clearance of mines and unexploded ordnance of roads, human settlements, lands suitable for sowing, and other areas.
Following its liberation of the Armenian-occupied Nagorno-Karabakh region, Baku must now clear the lands of mines left as traps by the withdrawing Armenian forces.
Cemeteries, in particular, were said to have been turned into minefields on the assumption they would be one of the first places the returning Azerbaijanis would want to visit.
In a continuation of its support to the country, Ankara will provide Baku with 13 more minesweepers in order to assist Azerbaijan.
"We export 20 MEMATTs (Mechanical Mine Clearing Equipment), which were produced by ASFAT for the first time in our country with domestic and national means, to meet the needs of the Turkish Armed Forces, to our brotherly country Azerbaijan," ASFAT said in a Twitter statement with the hashtag #YerliveGüçlü ("DomesticandStrong").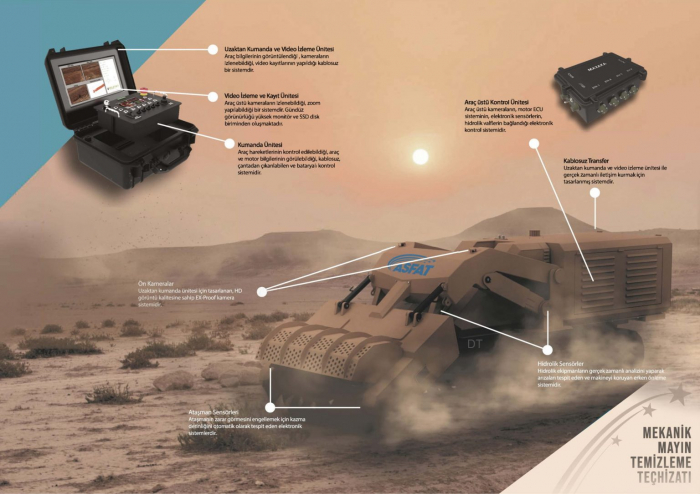 The equipment can move at a speed of 4 kilometers per hour (2.48 miles per hour), descend to a depth of 25 centimeters and clear a 1-kilometer-long, 1.7-meter-wide area of mines within an hour.
More about: