The influential media outlets of Moldova have widely covered Azerbaijani President Ilham Aliyev`s visit to the liberated from Armenian occupation the city of Lachin.
The articles, published by "NOİ", "Tribuna", "Rupor", "Dosarmedia", "Realitatea"and other news portals in Romanian and Russian languages, highlighted President Ilham Aliyev's remarks on Armenia.
"We have proposed five principles for the signing of a peace treaty with Armenia. In words, they accepted them, but we do not see it in practice. Again, this is a stalling tactic. According to the act of capitulation signed by Armenia on 10 November 2020, the Armenian armed forces should have withdrawn from Karabakh. They haven't fully withdrawn yet. Armenia was supposed to provide a corridor that would ensure a connection between the main part of Azerbaijan and the Nakhchivan Autonomous Republic. So far not only have they failed to provide the corridor, but also the route of the corridor has not been communicated to us," the articles emphasized.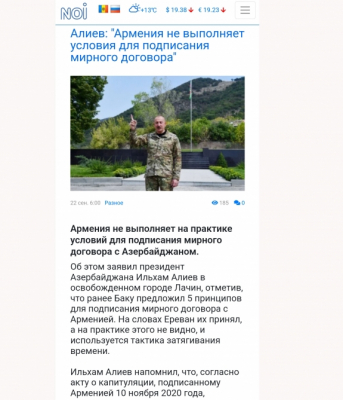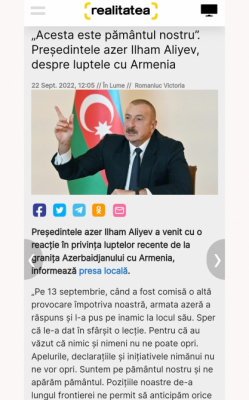 More about: #IlhamAliyev #Lachin