The decline ends eight years' growth in the world's largest mobile phone market. Smartphone brands Huawei, Oppo and Vivo continue to dominate the Chinese handset market.
Despite the overall slowdown of the market, Huawei saw double-digit growth, the Canalys report said.
Changing times
Between 2010 to 2015, the global smartphone market was mostly a showdown between Apple and Samsung.
But over the last two years, smaller Chinese Android smartphone brands have risen, offering faster entry-level phones at much more affordable prices.
While consumers in big Chinese cities like Beijing and Shanghai see the latest iPhone and Galaxy devices as "must-have" handsets, people in rural areas couldn't afford the hefty price tags and mostly stuck to basic feature phones.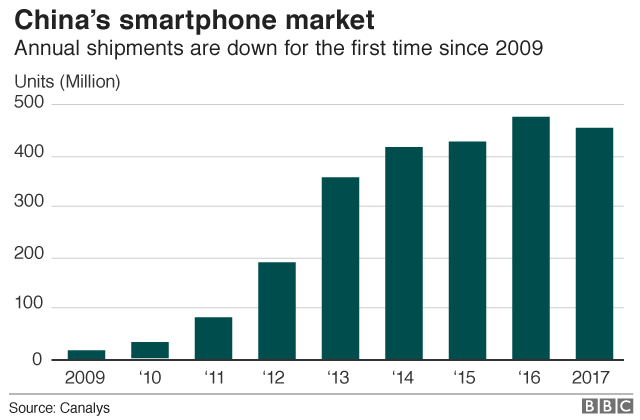 To offer these consumers a premium experience at a lower price, Oppo and Vivo - both owned by reclusive billionaire Duan Yong Ping - chose to eschew online and instead open retail stores on high streets in rural provinces.
The approach of offering an Apple-esque in-store customer experience was successful. In 2016, China saw a huge boom in consumers swapping their basic phones for premium smartphones.
According to Counterpoint Research, by August 2017 Huawei had sold almost as many smartphones as Apple. By the end of 2016, it had already dethroned Samsung from the top spot as most profitable Android device brand in the world.
More about: China Smartphone