Israeli Prime Minister Benjamin Netanyahu and Paraguayan President Horacio Cartes attended the inauguration ceremony.
The US opened its embassy in Jerusalem on May 14, the 70th anniversary of the creation of Israel. The long-anticipated relocation of the US embassy from Tel Aviv was met with a new round of violent clashes between Israel and Palestinian protestors on the Gaza border. Over 60 people, including several children, have been killed and more than 2,700 others injured in the latest clashes. On Wednesday, Guatemala also took the same step in support of the US president's decision.
​Israel considers Jerusalem its capital, including the eastern districts of the city, which the Israelis seized from Jordan during the Six-Day War in 1967. However, the international community doesn't recognize this status of the city. The Palestinians are protesting the relocation, claiming East Jerusalem to be their capital as well.
***
10:46
Paraguay's President Horacio Cartes arrived in Israel Sunday evening ahead of the opening of his country's embassy in Jerusalem this week, The Times of Israel reports reports.
Cartes was greeted at the airport by Public Security Minister Gilad Erdan, who praised him for moving the Paraguayan embassy in Israel to Jerusalem.
"I thanked the president for his decision that testifies to the depth of countries' ties and his brave leadership. Another state leader that chooses truth and strengthens our sovereignty in our capital," Erdan tweeted.
Paraguay is set to open its new mission in Jerusalem on Monday, making it the third country to do so after the United States and Guatemala opened their embassies in the city last week.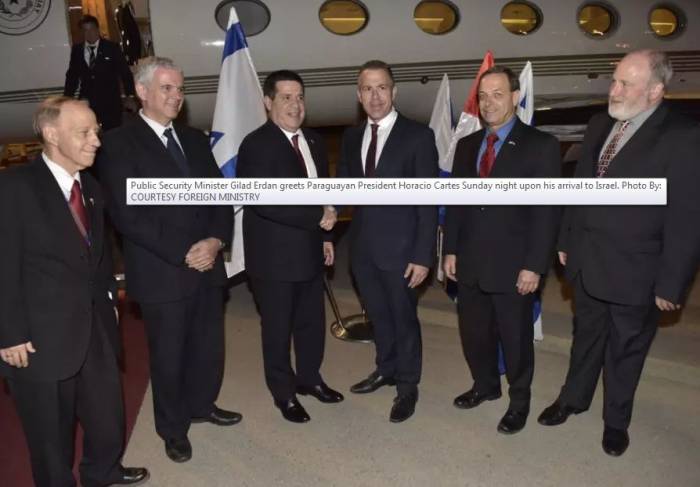 Following the embassy inauguration, Cartes will attend a reception at the Foreign Ministry attended by Prime Minister Benjamin Netanyahu, Foreign Ministry spokesman Emmanuel Nahshon said.
Last month, Cartes said he wanted to relocate the country's embassy to Jerusalem before the end of his presidential term in August.
The decision has been controversial in Paraguay. It comes less than two months before Mario Abdo Benitez replaces Cartes, and the president-elect has said he wasn't consulted.