The meeting took place as part of the working dinner.
***
14:46
An official welcome ceremony was held on Tuesday for President of the Republic of Turkey Recep Tayyip Erdogan, who is on an official visit in the Republic of Azerbaijan. 
After the official welcoming ceremony, President of the Republic of Azerbaijan Ilham Aliyev held a one-on-one meeting with President of the Republic of Turkey Recep Tayyip Erdogan.
During the meeting, the sides noted that bilateral relations between Azerbaijan and Turkey, which were based on strategic cooperation, were successfully developing on all fronts. The parties said that this visit would contribute to the further strengthening of friendly ties between the two countries, and expressed their confidence that the bilateral relations would always continue to steadily develop.
***
14:31
A guard of honor was arranged for the Turkish president in the square decorated with the national flags of the two countries.
Azerbaijani President Ilham Aliyev welcomed his Turkish counterpart.
The chief of the guard of honor reported to the Turkish president.
President Aliyev and President Erdogan reviewed the guard of honor.
The Turkish president saluted the Azerbaijani soldiers.
The national anthems of Turkey and Azerbaijan were played.
The guard of honor marched in front of the presidents to the accompaniment of a military march.
The heads of state posed for official photos.
***
Turkish President Recep Tayyip Erdogan, who is on an official visit in Azerbaijan, visited the Alley of Honors on July 10.
He paid tribute to the national leader of the Azerbaijani people, architect and founder of the modern independent state of Azerbaijan Heydar Aliyev.
President Erdogan laid a wreath at the grave of national leader Heydar Aliyev.
Then, the Turkish president laid flowers at the graves of prominent ophthalmologist, academician Zarifa Aliyeva, outstanding statesman Aziz Aliyev, renowned doctor and scientist Tamerlan Aliyev.
***
President of the Republic of Turkey Recep Tayyip Erdogan has embarked on an official visit to Azerbaijan.

Turkish president was welcomed at the Heydar Aliyev International Airport by Azerbaijani First Deputy Prime Minister Yagub Eyyubov, deputy FM Khalaf Khalafov, Azerbaijan's Ambassador to Turkey Khazar Ibrahim, Turkish ambassador to Azerbaijan Erkan Ozoral and other officials.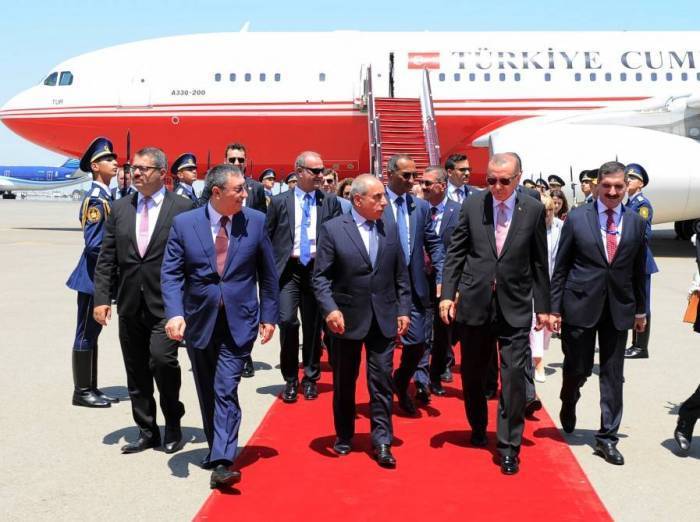 More about: Turkey Azerbaijan