Van Oosten has been awarded the prestigious Wildlife Photographer of the Year award for his portrait, "The Golden Couple," which caught the primates in their only habitat on earth.
The photograph of the majestic pair beat more than 45,000 entries and 18 other winners in various categories to claim the overall prize, awarded annually by Britain's Natural History Museum.
"This image is in one sense traditional -- a portrait. But what a striking one, and what magical animals," said Roz Kidman Cox, the chair of the judging panel.
"It is a symbolic reminder of the beauty of nature and how impoverished we are becoming as nature is diminished. It is an artwork worthy of hanging in any gallery in the world," she added.
The endangered monkeys, a male and a female, were watching an altercation between two males in their 50-strong group when van Oosten took the winning shot.
He had spent several days observing the creatures during the spring months.
Two owls, a hellbender salamander and a mountain gorilla were among the other subjects that helped wildlife photographers pick up prizes in a variety of categories.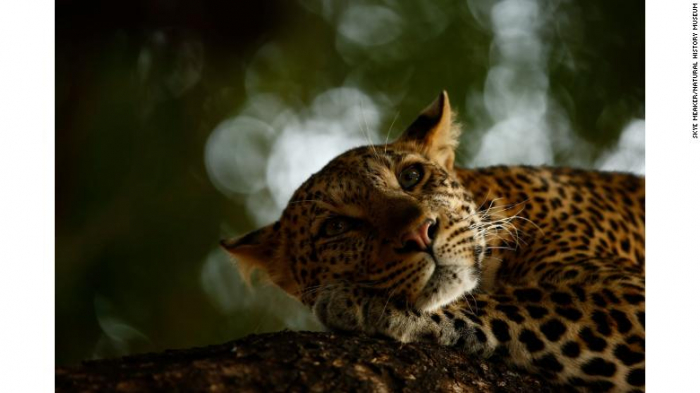 Category: 15-17 Years Old. This shot of a leopard waking up from a slumber in Botswana won 16-year-old Skye Meaker the Young Wildlife Photographer of the Year award.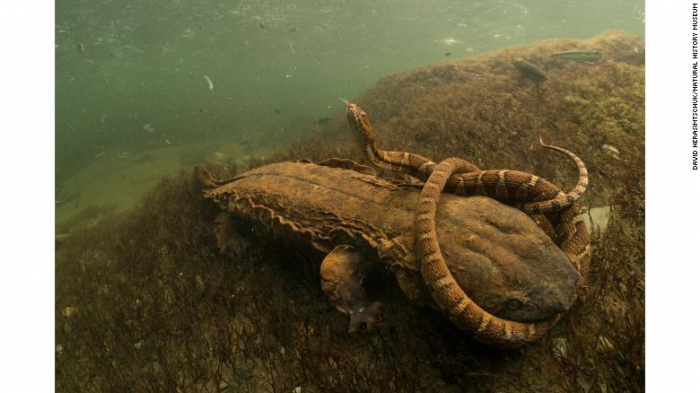 Category: Amphibians and Reptiles. US photographer David Herasimtschuk captured the hellbender, North America's largest aquatic salamander, wrestling with its prey in Tennessee's Tellico River.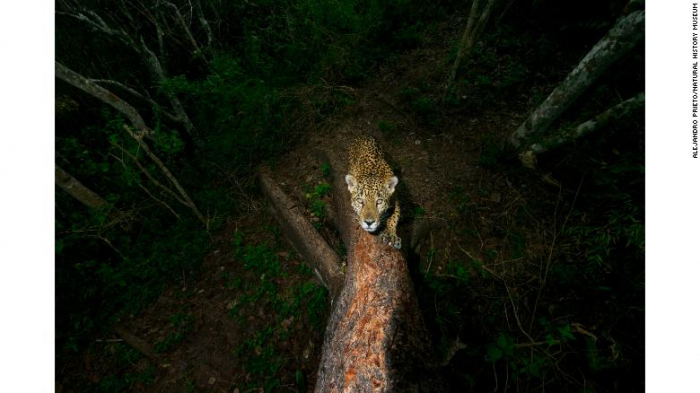 Category: Photojournalist Award for a Story. A male jaguar sharpens his claws and scratches his signature into a tree on the edge of his mountain territory in the Sierra de Vallejo, Mexico.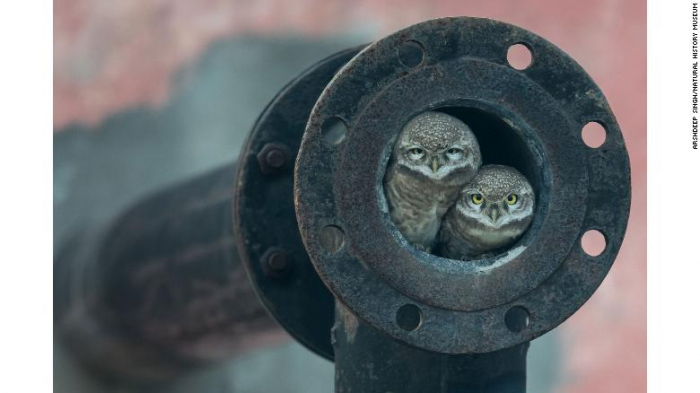 Category: 10 Years and Under. Arshdeep Singh was driving through the Indian state of Punjab with his father when he snapped two spotted owlets from the window of the car.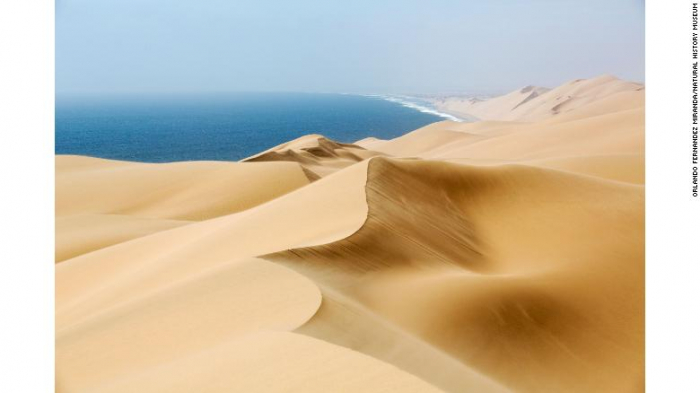 Category: Earth's Environments. A high dune on Namibia's desert coastline, where mounds of wind-sculpted sand merge with the Atlantic Ocean.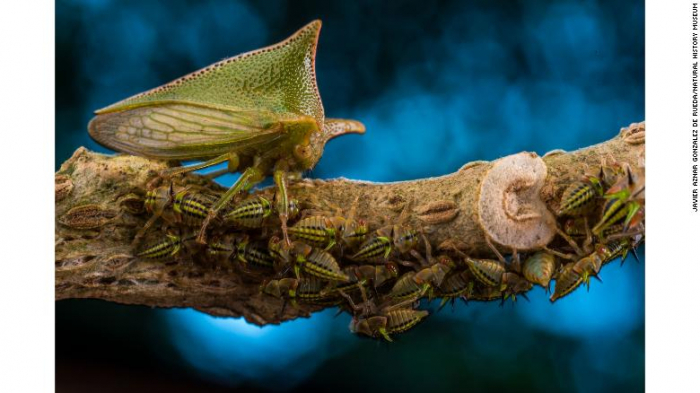 Category: Portfolio Award. A large Alchisme treehopper guards her family as they feed on the stem of a nightshade plant in El Jardín de los Sueños reserve, Ecuador.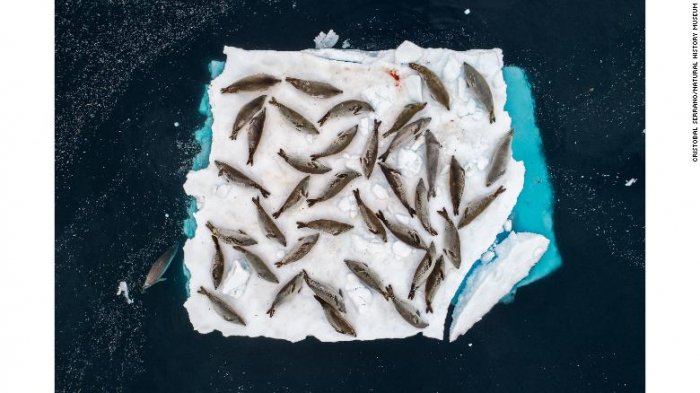 Category: Animals in their environment. Crabeater seals rest on a small chunk of sea ice, in late summer at the tip of the Antarctic Peninsula.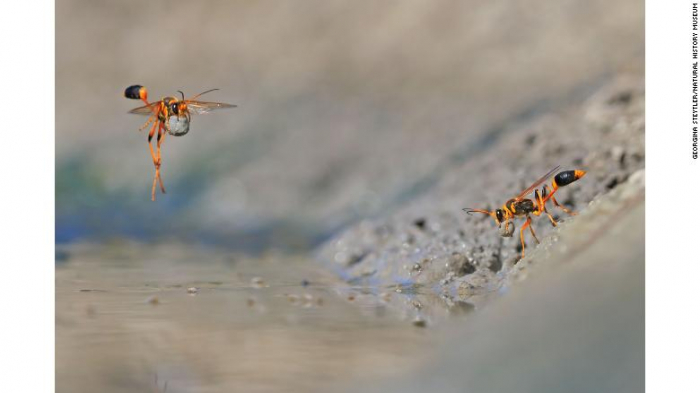 Category: Invertebrates. Two mud-dauber wasps dig up soft mud to create egg chambers to add to their nests in Western Australia.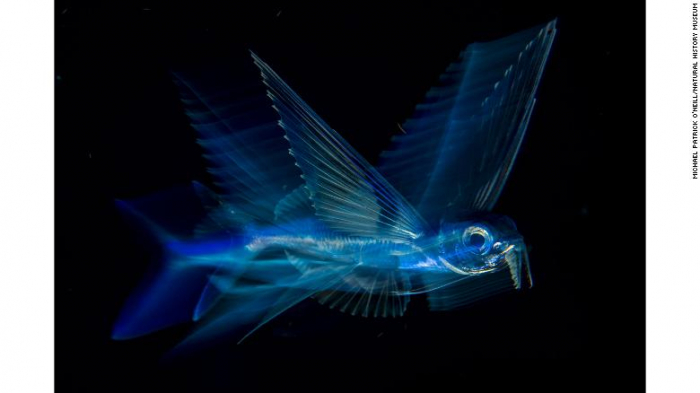 Category: Under Water. A flying fish captured in midair off Florida's Palm Beach. These fish sprint away from hunters such as tuna and mackerel, building up enough power in their forked tails to leap from the water and through the air.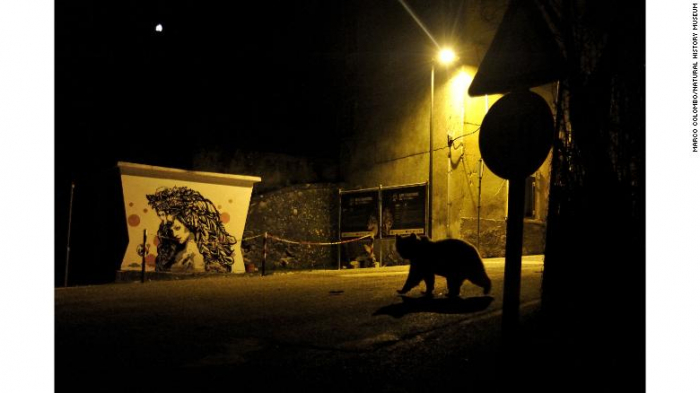 Category: Urban Wildlife. One of just 50 remaining Marsican brown bears wanders through a village in the Abruzzo region of Italy in search of food.
Category: Mammals. A young mountain gorilla in Uganda's Bwindi Impenetrable Forest mourns over the corpse of her baby. Guides told photographer Ricardo Núñez Montero that the baby had probably died from the cold soon after being born.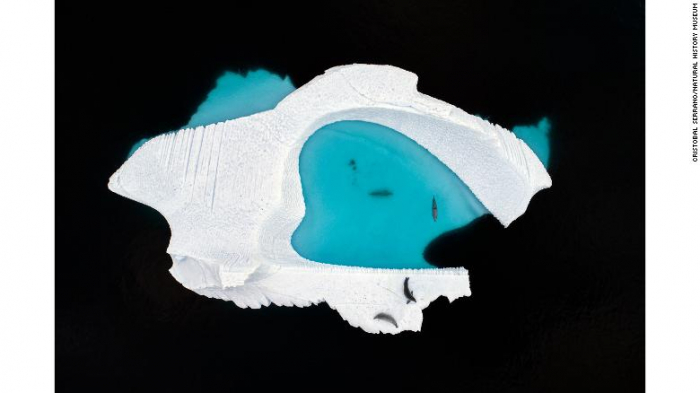 Category: Creative Visions. In the Antarctic, a drone captures a heart-shaped pool created by a melting iceberg.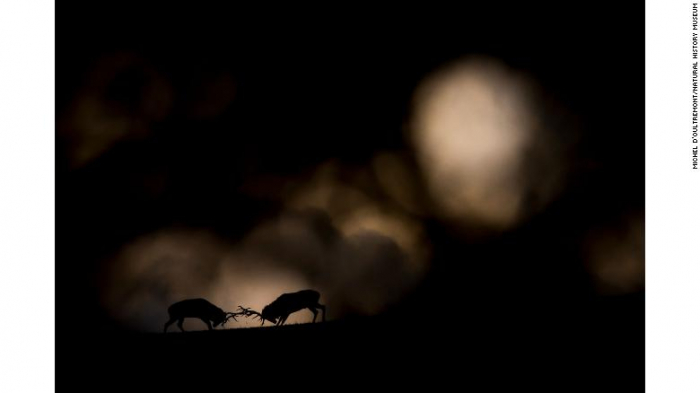 Category: Rising Star Portfolio Award. Two deer stags duel for the right to mate with a female in the Ardennes forest in Belgium.
More about: Photography