The museum was established in 1993 under the order of the president of Turkmenistan. The goal of the museum is to protect and develop the carpet weaving art of Turkmenistan. The day the museum was founded is annually celebrated as Turkmen Carpet Day in the country.
The museum also houses an administrative building of the Turkmenkhali state joint stock corporation. The museum occupies a total area of 5,000 square meters.
More than 2,000 carpet samples are kept in the museum. One of the highlights is the Golden Age carpet measuring 301 square meters. Woven to mark the 10th anniversary of Turkmenistan's independence, this carpet is listed in the Guinness Book of Records as the world's largest handmade carpet.
The president signed the museum's guest book.
***
President of the Republic of Azerbaijan Ilham Aliyev has viewed the Olympic Complex in Ashgabat.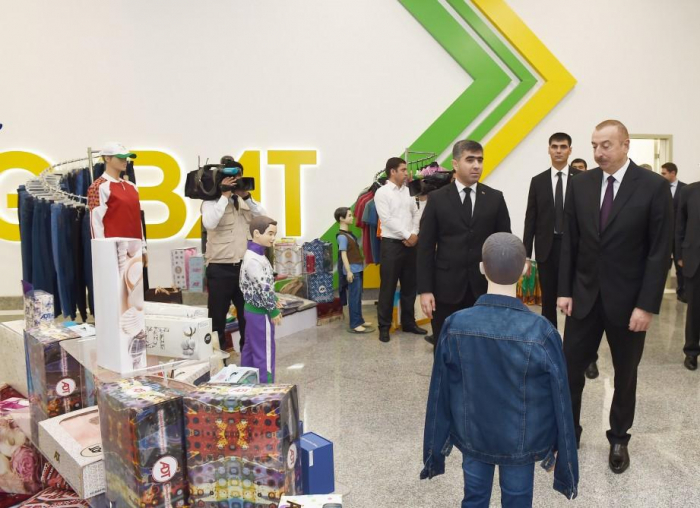 The 2017 Asian Indoor Martial Arts Games took place in this complex with a grand opening ceremony.
The Olympic Complex consists of multipurpose structures and premises suitable for different sporting events and includes 30 facilities, high-tech infrastructure, comfort and unique aesthetic appearance. All of the premises meet all standards for training and competitions in diverse sporting branches, including karate, judo, boxing, cycling, tennis, swimming, weightlifting, athletics, gymnastics, soccer, basketball, volleyball and handball.
***
President of the Republic of Azerbaijan Ilham Aliyev has visited the "People's Memory" memorial complex in Ashgabat.
The complex features monuments commemorating the victims of Ashgabat earthquake of 1948, and those fallen during the battle of Geok Tepe.
President Aliyev laid a wreath at the Eternal Glory monument.
The president then familiarized himself with the Sacred Homeland Museum.
The museum features exhibits highlighting Geok Tepe battle, World War II, and Ashgabat earthquake of 1948.
The president viewed the installation of Geok Tepe battle of 1881.
President Aliyev signed the museum's guest book.
***
President of the Republic of Azerbaijan Ilham Aliyev has arrived in Turkmenistan for an official visit.
A guard of honor lined up for the head of state at Ashgabat international airport decorated with the national flags of Azerbaijan and Turkmenistan.
President Ilham Aliyev was welcomed by Deputy Prime Minister and Minister of Foreign Affairs of Turkmenistan Rashid Meredov and other high-ranking officials.
More about: Ilham-Aliyev Turkmenistan