"Azerbaijan wants peace and justice!", "Europe, don't turn blind eye to the murder of children", "Stop the killings of the peaceful civilians!", "End the aggression of Armenia!", "Karabakh is an integral part of Azerbaijan!", "We want peace", "Freedom for Dilgam and Shahbaz!" and other slogans were chanted during the rally.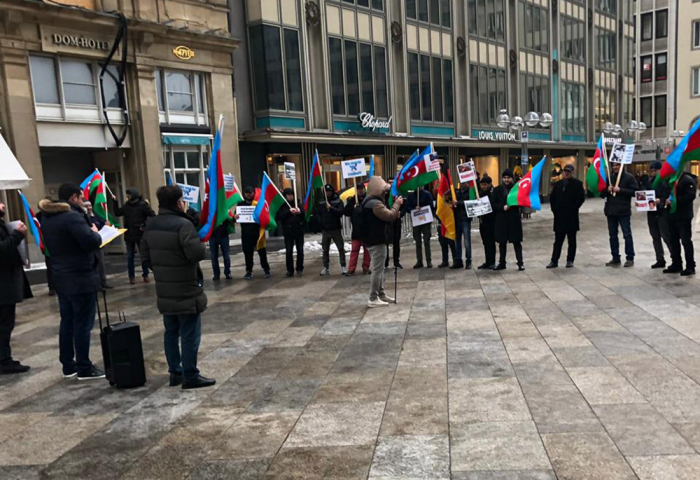 Being one of the leading countries of Europe, Germany always approaches sensitevely to human rights and freedom issues. Besides, taking into consideration its influence to OSCE, people living Cologne, Germany decided to stage the rally.
Later, the rally protesters talked about the Armenian vandalism and noted with concrete facts that Nagorno-Karabakh is the historical land of Azerbaijan. They stated that, during the Armenia-Azerbaijan Nagorno-Karabakh conflict, more than a million people were deported from their homelands. They urged the international community to condemn these terrorist acts.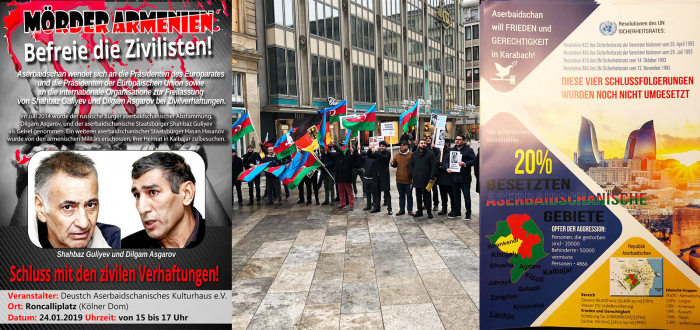 In the end, thousands of flyers depicting the ethnic composition of the Azerbaijani people, 4 UN resolutions on Azerbaijan's territorial integrity, the history of Nagorno-Karabakh and other historical information about Azerbaijan Republic were distributed to the representatives of the Society for Friendship of Azerbaijan and Germany and other tourists.
More about: Germany Cologne Armenia Azerbaijan