"The issues discussed during the trilateral meeting between Azerbaijani President Ilham Aliyev and Armenian Prime Minister Nikol Pashinyan with the mediation of President of the European Council Charles Michel must be assessed as a major step in the direction of settlement of the issues between Azerbaijan and Armenia," Chairman of the Committee on Labour and Social Policy of the Milli Majlis of the Republic of Azerbaijan, member of the board of the New Azerbaijan Party (NAP) Musa Guliyev told reporters.
He said that the recent dynamic approach of the Council of the European Union to the problems in the Caucasus is one of the steps, that stimulates a balanced settlement not only under Russian influence but also within the interests of the EU:
"Azerbaijan is absolutely satisfied with this approach. The meeting, which lasted up to 5 hours informs about more detailed discussions and constructive talks. Besides, we can assess the meeting as another success of Azerbaijani diplomacy and President Ilham Aliyev's foreign policy. All the issues of discussions and the agreed results were based on Azerbaijan's five proposals, aimed at settling the issue. Azerbaijan's position is supported in almost all directions. It was decided that serious steps will be taken to address those issues put forward by Azerbaijan in the coming days." 
He underlined that a firm statement of the Armenian side about the commission on the process of the border demarcation must be highlighted: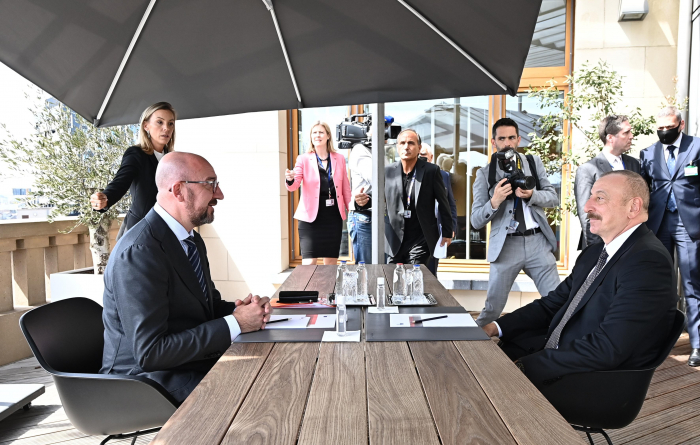 "The Azerbaijani side has been ready for this issue for a long time. The commission has already been set up. Armenia has extended this issue by changing different dates under various pretexts. Apparently, Armenia has no chance.
As a final decision, the commissions will have another meeting in the coming days. It is also of importance for opening borders and communications, in particular, the Zangazur corridor. The Azerbaijani side has always insisted on this issue highlighting its significant role to regulate the relations between Armenia and Azerbaijan. The sides have already reached an agreement on this issue. In this regard, the necessary steps are expected to be taken in the near future to open both rail and road communications. Also, Charles Michel supported Azerbaijan's proposals on humanitarian issues. In particular, the European Council is willing to provide financial and economic support for demining. "
Musa Guliyev added that Armenia has not discussed the status of Karabakh in recent meetings:
"Although the Armenian side has uttered some words addressing their people on the status issue, they admit that this issue has lost its significance in international meetings. On the other hand, the term "Nagorno-Karabakh" is no longer a topic of discussion. As they fail to use this term anymore, it proves they have confessed to this situation.
The MP believes that the trilateral meeting is necessary to increase mutual trust: "We can mark the meeting as another victory of Azerbaijani diplomacy. President Ilham Aliyev's concrete position on all issues is very important in advancing peace talks."
AzVision.az 
More about: