Close to 50 countries are either developing or have already rolled out coronavirus tracing apps. Technology was quickly seen as a potential way to curb the spread of the pandemic with apps introduced capable of identifying and notifying people who have come into contact with carriers of the disease. Despite its promise, the development of technology has divided smartphone users, with many voicing serious privacy concerns.
The extent to which tracing apps harvest users' data varies heavily by country with Germany's Corona-Warn App complying with the country's strict privacy laws while China's system collects citizens' identity, location and online payment history.
Nevertheless, many experts have said that contact tracing technology could prove critical for improving contact tracing and identifying chains of infection. Aside from privacy concerns, the system does have other weaknesses, particularly if a few users adopt it. Germany said that its app would be most effective if 60% of the population installed it, a figure that was later dismissed by Health Minister Jens Spahn who said he would be satisfied if a few million users downloaded it. So far, 14 million Germans have installed the Corona-Warn app and the country's Covid-19 outbreak generally remains under control. Another obvious weakness is the patchwork nature of tracing apps that are merely national endeavours rather than a unified and compatible global solution.
The MIT Technology Review is tracking the deluge of apps that have emerged over the past few months and the following infographic shows the countries that are either developing such a system or that have already rolled one out. While a long list of countries does not have a technological solution to Covid-19, the individual nature of current apps can prove problematic when it comes to cross border travel. For example, if a German traveller returns from France and tests positive in Frankfurt, no warning message can be sent to his or her contacts through the French app system. This means that travellers may have no choice but to install several apps at once.
While the patchwork introduction of apps is a global issue, it is also a major problem within the borders of the United States where the development of contact tracing technology has been mired in uncertainty. Rather than creating a single U.S. app, the decision to introduce the technology lies with the public health authority in different states. Apple AAPL -0.2% and Google GOOGL -0.6% announced plans to build tracing technology into iOS and Android on April 10 (Germany's app is based on this) but as of mid-July, only 4 states have said they will participate, according to website 9 to 5 Mac.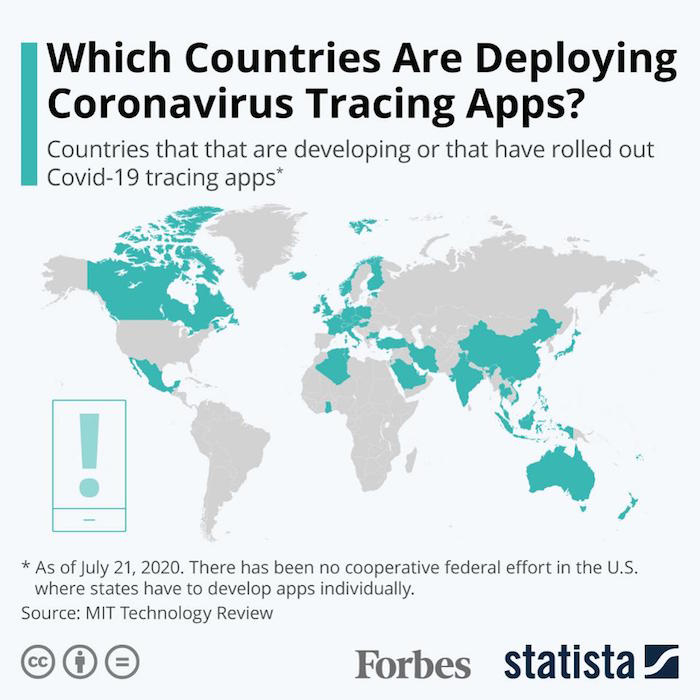 More about: APP