Capturing and making hostages of thousands of innocent Azerbaijanis, their subjecting to torture, murder and facing with other inhumane treatment are the most terrible and bloody pages of military aggression of Armenia against Azerbaijan.
As a result of investigations carried out by various organizations, it was found that thousands of Azerbaijanis, having been captured and taken hostage by the Armenians since the beginning of Garabagh conflict, were subjected to terrible violence for their ethnic origin.
The investigation conducted by the Working Group of the State Commission on Captured, Missed and Hostage Citizens under the Ministry of thee National Security of Azerbaijan Republic, had revealed that the number of captured and hostage persons during the year of 2007 was 4354. Out of these 3504 were soldiers, 841 of them civilians. Only 9 people are unknown to be either military men or civilians. Among civilians 47 are children (16 under aged girls), 268 women, and 371 elderly people. During the analysis of the data received by the State Commission it was identified that 550 people were killed or died of various causes during captivity. Of these 104 were women, 446 men. Only Names only of 137 people are known and 74 persons are unknown.
In 2008, as a result of investigations carried out by the International Red Cross Society the information on the fate of over of 170 captured and hostage Azerbaijanis was identified. It was identified that they are alive now. In subsequent years, the fate of other group of persons from this list was cleared.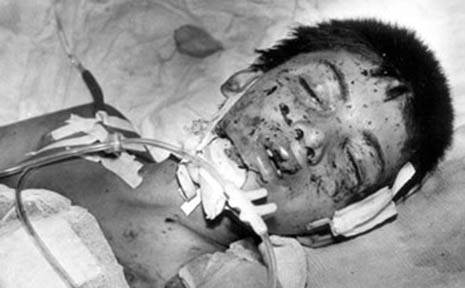 According to official figures of 2012, the number of captured, missed and hostage people was 4030 people. The International Committee of the Red Cross (ICRC) had registered 4600 people as missing persons during Garabagh war. About 3700 of them are Azerbaijanis. Since 2012 the ICRC began implementation of a new program jointly with Azerbaijan and Armenia to determine the fate of missing persons. According to this program the search for missing persons will be carried out based on samples of the DNA taken from their relatives.
The documents on number of captured and missing Azerbaijanis provided by Azerbaijani side have been detected at the international organizations. The draft resolution offered by Azerbaijani delegation at 7th session of the UN Human Rights Council, held on February 7, 2008, in connection with the problem of missing Azerbaijanis during armed conflicts was adopted by the unanimous opinion of 38 countries. The resolution reflects the appeal to parties of the Garabagh conflict for full-fledged cooperation with the International Committee of the Red Cross (ICRC) in order to determine the fate of missing persons. However, the Armenian side has ignored this appeal. Moreover Armenia has not created conditions to investigate the data on prisoners and hostages kept as slaves in secret camps in Armenia and the occupied territories of Azerbaijan. Despite the International Committee of the Red Cross proposed co-operation for investigating the information on survived prisoners and hostages but the aggressor has repeatedly refused it.
The facts gathered at the State Commission on Captured, Missed and Hostage Citizens prove the rough violation of international legal norms by Armenia in relation to captured Azerbaijani citizens, violation of requirements of the Geneva Conventions of 1949 "on the protection of war victims", on attacking of life and personality, to kill at any circumstances, make crippled, to treat cruelly or torturing and humiliating human dignity.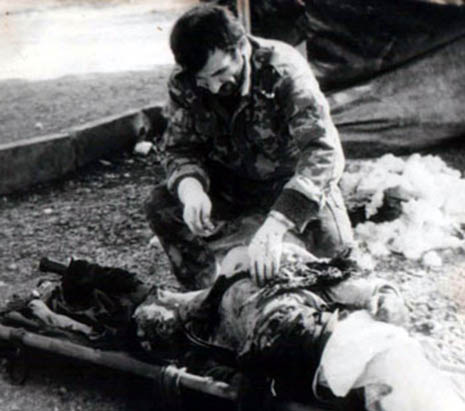 The facts on treatment of Armenians with Azerbaijani prisoners of war and hostages:
- The Armenian armed forces had shot at site about 80 residents out of 117 taken as hostages from Garadaghly village during the occupation of
Khojavend
(17.02.1992). The village residents Seyyur
Khanlar
oglu Nagiev, Shahruz Amirkhan oglu Aliyev and other witness this fact.
- The resident of Garadagly village of
Khojavand
Haqiqat Yusif kizi Huseynova was witnessed how Armenians burned alive of 10 her co-villagers on February 1992.
- According to Imarat Mamishova, she was taken hostage with her two young children during the occupation of Kelbajar. In front of her eyes Armenians killed eight civilians, including her eight-year-old son Taleh and their bodies were burned. After that the Armenians had taken herself, her 10-year-old son Yadigar, other women, children and elderly people to Khankendi and subjected to horrible tortures.
- According to words of the Ahmadovs, released from Armenian captivity in 1994, on August 17, 1993the Armenians shot in front of their eyes up to 25 civilians in the village of Gajar of Fizuli;
- Hasan Majid oglu Huseynov, held in Armenian captivity, informs that in 1993 40 civilians were killed at Horadiz-
Fuzuli
way by Armenians.
- Niyaz Balay oglu Zeynalov that returned from captivity, informs that Armenian killed by setting a fire on alive residents of the village of
Shusha
region, Gushchular village, hostages Sariya Tagi kizi Zeynalova, born in 1910, Yegana Dadash kizi Madatova, born in 1920 and Movsum Abdulrahim oglu Ahmadov, in February 11, 1992.
- 61-year-old Budag Ali oglu Alishanov, a former hostage, witnessed how 5 Azerbaijanis in Armenian captivity in Drmbon village (Nagorno-Garabakh) were killed as being used as slaves in hard physical labor.
- Israyıl Sarif oglu Ismayilov, released from captivity, has confirmed that Armenians cut heads of three hostage Azerbaijanis on the Armenian grave.
- resident of
Lachin
region Samaya Kerimova he could not stand the torture against her 2-year-old daughter Nurlana and self and committed suicide in captivity.
- Ilham Nasirov, born in 1973, died in a military hospital in Yerevan on November 23, 1993 for being kept hungry and thirsty for a long period of time;
- Forensic expertise of the remains of 20-year-old Farhad Rahman oglu Atakishiyev died in Armenian captivity proved that he was killed as a result of regular beatings and other tortures.
-
Yardimly
region's resident Heydar Heydarov died as a result of systematic torture by the Armenians in
Shusha
prison; (24.12.1994). This information was witnessed by former hostages Habib Aliyev, Avaz Mukhtarov, Abulfat Gasimov and others.
-
Khojaly
resident Faiq Shahmali oglu Alimammadov being in Armenian captivity was shot dead by Armenian soldier for refusing to say "Kirovabad" for city of Ganja. Zulfi Ibrahim oglu Mammadov, Mammad Jumshud oglu Mammadov and others witnessed it.
The brother of Monte Melkonian, "Arabo" Armenian battalion commander, one of the leaders of the ASALA Armenian terrorist organization distinguished with its cruelty in Garabakh against Azerbaijani civil population, Markar Melkonian, in his book written in the United States "My Brother`s Road" describe how Armenians kill the hostages, residents of Garadagly village. Quote from the book: "Aramo and Arabo's soldiers had taken captive 38 people, among them were women, they were in a valley near the village. Aramo and Arabo wanted to avenge for their friends killed in battle soldiers, so later they began to knife and shoot with machine guns the prisoners. Edo with scar joined them, too. He poured gasoline on some of wounded prisoners and set them to fire. When Monte came to this valley away from the village there was just a stack of human remains". That book also describes how head of the Azerbaijani prisoner was cut off at the grave of Armenian in Yerevan.
The facts on mass killing of civilians during the military aggression of Armenia against Azerbaijan, the exposure of Azerbaijani citizens held captive in Armenia and the occupied territories of Azerbaijan to severe tortures and moral sufferings, causing the suicide by regularly humiliating human dignity of people, killing brutally, or dying at result of given tortures are numerous. These facts show that captured and hostage Azerbaijanis became victims of the mass genocide, were deprived of their basic human rights.