An ancient piece of "chewing gum" has revealed a Danish woman born 5,700 years ago probably had dark skin, blue eyes and ate a diet including hazelnuts and duck.
Scientists examined the ancient piece of birch pitch which provided insights into the oral microbiome and the individual's potential food sources.
Researchers from the University of Copenhagen said the discovery marks the first time an entire ancient human genome has been obtained from anything other than bones.
Based on the human genome, the researchers could tell the birch pitch was chewed by a female. She was genetically more closely related to hunter-gatherers from mainland Europe than to those who lived in central Scandinavia at the time.
Researchers also believe the woman had dark skin, dark hair and blue eyes, according to the study published in Nature Communications.
Traces of hazelnut and duck DNA was also found in the sample, indicating they may have made up part of her diet.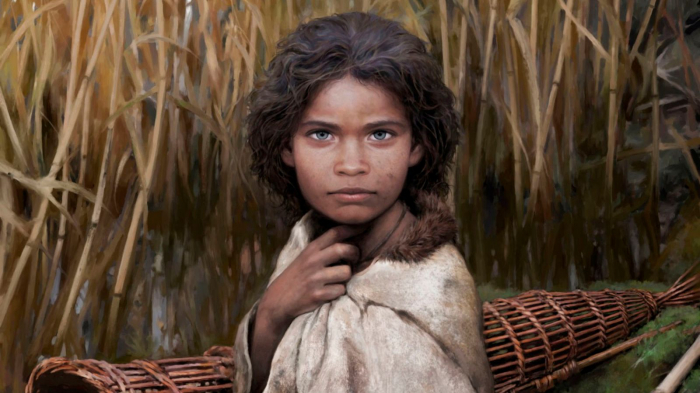 Ancient chewing gum has helped recreate an image of the Stone Age Danish woman
Associate professor Hannes Schroeder from the Globe Institute, University of Copenhagen, who led the research, said: "It is amazing to have gotten a complete ancient human genome from anything other than bone.
More about: chewing-gum Stone-Age Danish-woman