The article refers to President Aliyev's remarks about the liberation of several residential settlements and strategic heights from the occupation as a result of the successful counteroffensive of the Azerbaijani army.
According to the article, President Aliyev said. "The Armenian people must understand that it is a crime to occupy the land of another state for 30 years, destroy all buildings and historical sites, expel more than 1 million people from their homeland and commit genocide against the Azerbaijani people. Our cause is the cause of justice. We want to restore our territorial integrity, we have the right to do so, we are doing it and we will do it."
The Egyptian portal also stressed that the Azerbaijani people, mobilized to liberate their homeland from occupation, are showing high patriotism.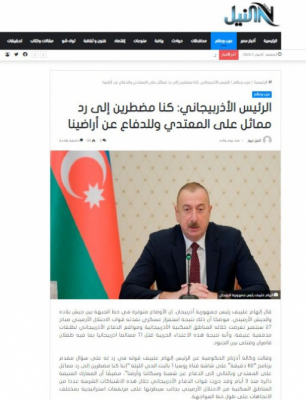 More about: Nagorno-Karabkah Azerbaijan Egypt