As a result of successful operations of our army, 4 cities (Jabrayil, Fuzuli, Zangilan, and Gubadli), 3 settlements (Hadrut, Minjivan, and Agband), 165 villages and a number of strategic heights, including Murovdagh peak of Murovdagh mountain, were liberated from occupation within a month. Also, the Khudafarin Bridge, which is of great strategic importance and moral value for our country, has been liberated.
On October 22, with the liberation of the Agband settlement of Zangilan, Azerbaijan has fully restored the state border with Iran. This historic event can be assessed as another strategic victory in ensuring the territorial integrity and sovereignty of our country. It is important to take full control over the border with Iran. With this step, Azerbaijan put an end to drug smuggling and other illegal activities carried out by Armenians over Nagorno-Karabakh for years.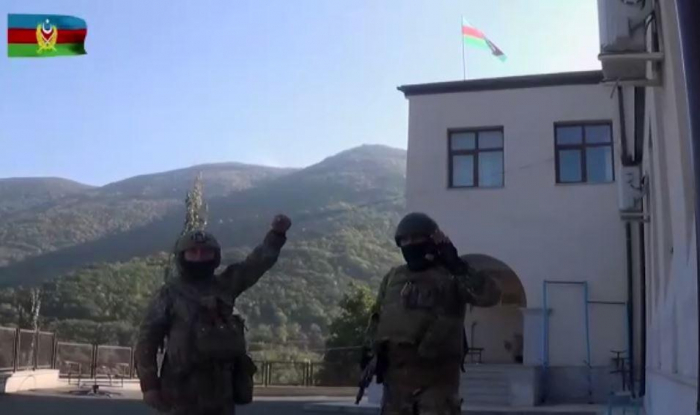 During the battles, the strategically important village of Sugovushan and the Hadrut settlement were also liberated from the Armenian occupation. After the liberation of Sugovushan village, several regions were supplied with water released from the Sugovushan reservoir. Thus, the water problem of Tartar, Gornaboy, and Yevlakh has been solved, as well as, the ecological balance has been ensured.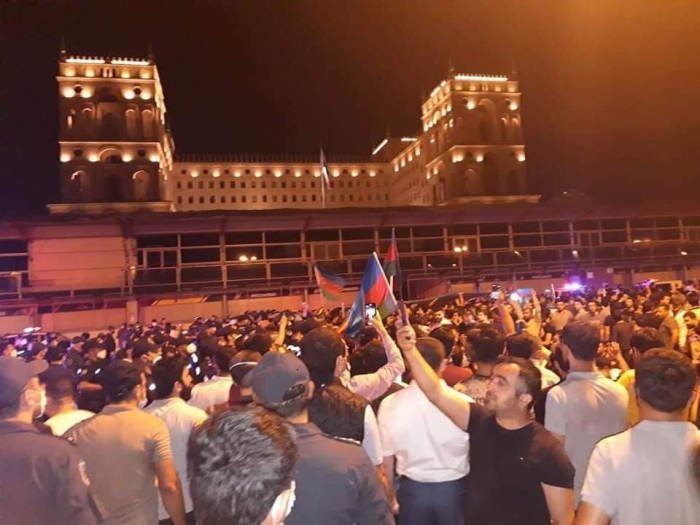 The Patriotic War also demonstrated state-people unity and national solidarity in our country. People of Azerbaijan is more united than ever before. Thousands of young people applied to join the army voluntarily. The people of Azerbaijan, united around the Supreme Commander-in-Chief like a fist, have only one goal - to liberate our lands from occupation, to wave our glorious flag in Shusha, Khankendi, and other occupied territories ...
Over the past month of the battles, heavy blows inflicted on Armenian armed forces in terms of military equipment. Now, even 30 years will not be enough to restore it. Armenian military equipment cost more than $ 2 billion was destroyed and taken as a trophy.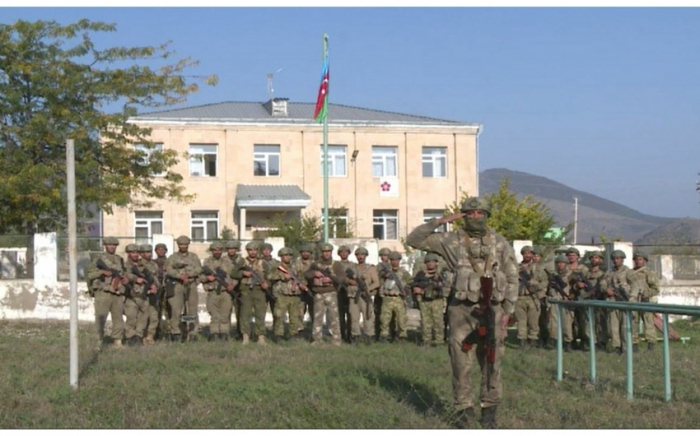 Azerbaijani President Ilham Aliyev has revealed the list of destroyed Armenian military equipment in his address to the nation on October 26.
252 tanks have been destroyed, 53 tanks have been taken as booty – in total Armenia has lost 305 tanks. But they still have more. Look how many tanks they had. Fifty infantry fighting vehicles have been destroyed, 29 have been taken as booty – a total of 79 units. Then, 251 guns of various calibers have been destroyed, 24 have been taken as booty – 275 in total. Sixty-one mortars have been destroyed, 45 were taken as booty – 106 in total. Fifty-three anti-tank weapons have been destroyed, 82 Grad installations have been destroyed. Two units of "Hurricane" multiple launch rocket systems have been destroyed.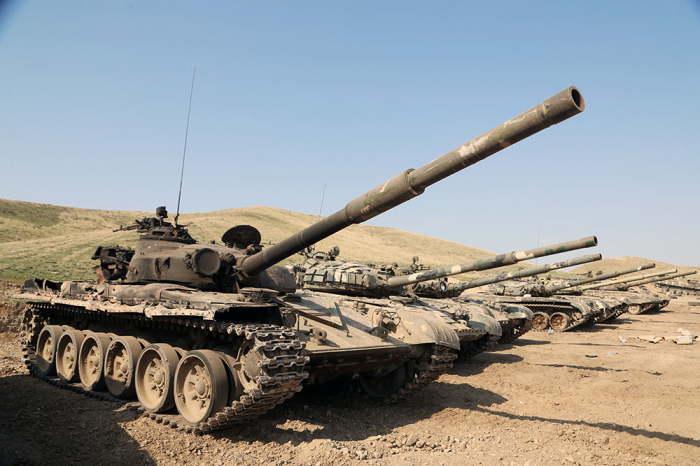 One "TOS" unit has been destroyed, four anti-aircraft missile systems "TOR", about 40 "OSA" installations, four "KUB" complexes, one "KRUG", two "S-125" have been destroyed. Six S-300 launchers, one of the most expensive launchers, have been destroyed. One detection station and one locator. The price is well known. Everyone can count this. We have destroyed two "Elbrus" and one "Tochka-U" operational-tactical missile systems. Trucks – 231 trucks have been destroyed, including 20 with ammunition, 173 trucks have been taken as booty. In total, we have deprived the enemy of 404 trucks.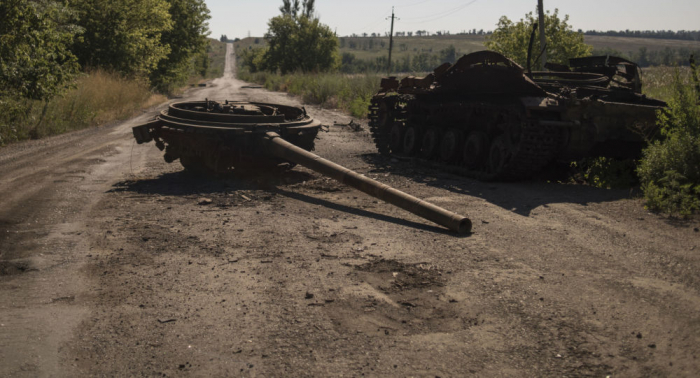 According to the official statement made by the Ministry of Defense, several more Armenian military equipment and manpower were destroyed. A large number of enemy forces, as well as 1 - T-72 tank, 4 - D-30 and 3 - D-20 howitzer-guns, 1 - "OSA-AKM" anti-aircraft missile system, 1 - BM-21 "Grad" MLRS, 1 - radar station, and 6 - auto vehicles were destroyed and wrecked in different directions of the front.
It is also noteworthy that dozens of high-ranking servicemen of the Armenian army were killed during the month of the Patriotic War. Jalal Harutyunyan, the "defence minister" of the separatist regime was seriously wounded in Karabakh last night. He has already been replaced by another separatist general, Michael Arzumanyan. The Armenian segment of social networks reports that Harutyunyan has already died. This is confirmed by the fact that the separatist leader Araik Harutyunyan immediately appointed Arzumanyan to replace him.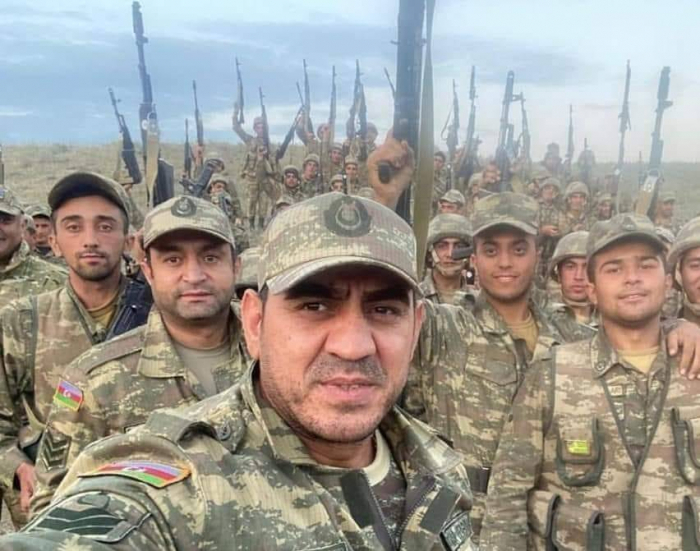 List of the liberated cities, settlements and villages.
September 27
Garakhanbeyli, Garvand, Kend Horadiz, Yukhari Abdurrahmanli villages of Fuzuli
Boyuk Marjanli, Nuzgar villages of Jabrayil district
Strategic heights in Aghdere and Muradov directions
October 3
Sugovushan and Talish villages of Tartar district
Mehdili, Chakhirli, Ashaghi Maralyan, Shaybay, Guyjag villages of Jabrayil district
Ashaghi Abdurrahmanli village of Fuzuli district
October 4
Jabrayil city and Karkhulu, Shukurbeyli, Yukhari Maralyan, Charakan, Dashkasan, Horovlu, Dejal, Mahmudlu, Jafarabad villages of Jabrayil district
October 9
Hadrut settlement and Sur village of Khojavend district
Garajalli, Suleymanli, Efendiler and Gishlag villages of Jabrayil district
Yukhari Guzlak, Gorazilli villages of Fuzuli district
Chayli village of Tartar district
October 14
Garadaghli, Khatunbulag, Garakollu villages of Fuzuli district
Bulutan, Malikjanli, Kamarturk, Teke, Taghaser villages of Khojavend
October 15
Edisha, Dudukchu, Edilli, Chiraguz villages of Khojavend district
Arish village of Fuzuli district
Doshulu village of Jabrayil district
October 16
Khirmanjig, Aghbulag, Akhullu villages of Khojavend district
October 17
Gochahmadli, Chiman, Juvarli, Pirahmadli, Musabeyli, Ishiqli, Dadali villages of Fuzuli district, and Fuzuli city
October 18
Azerbaijan's flag was hoisted over the Khudaferin Bridge
October 19
Soltanli, Amirvarli, Mashanli, Hasanli, Alikeykhanli, Gumlag, Hajili, Goyarchinveysalli, Niyazgullar, Kechal Mammadli, Shahvalli, Haji Ismayilli, Isagli villages of Jabrayil district
October 20
Havali, Zarnali, Mammadbeyli, Hakari, Sharifan, Mughanli villages of Zangilan district, and Zangilan city
Dordchinar, Kurdlar, Yukhari Abdurrahmanli, Garghabazar, Ashaghi Veysalli, Yukhari Aybasanli villages of Fuzuli district
Safarsha, Hasangaydi, Fughanli, Imambaghi, Dash Veysalli, Aghtepe, Yaraahmadli villages of Jabrayil district
Aghjakend, Muldudere, Dashbashi, Gunashli (Norashen), Chinarli (Vang) villages of Khojavend istrict
October 21
Khurama, Khumarli, Sari Babayli, Ucunju Aghali, Hajalli, Girakh Mushlan, Udgun, Turabad, Ichari Mushlan, Malikli, Jahangirbayli, Baharli villages of Zangilan district
Bayland, Papi, Tulus, Hajili, Tinli villages of Jabrayil district
Gecegozlu, Ashaghi Seyidahmadli, Zargar villages of Fuzuli district
October 22
Kollugishlag, Malatkeshin, Kand Zangilan, Genlik, Valigulubayli, Garadara, Chopadara, Tatar, Tiri, Amirkhanli, Gargulu, Bartaz, Dallakli villages and Aghband settlement of Zangilan district
Sirik, Shikhlar, Mastalibeyli, Darzili villages of Jabrayil district
Mollavali, Yukhari Rafadinli, Ashaghi Rafadinli villages of Fuzuli district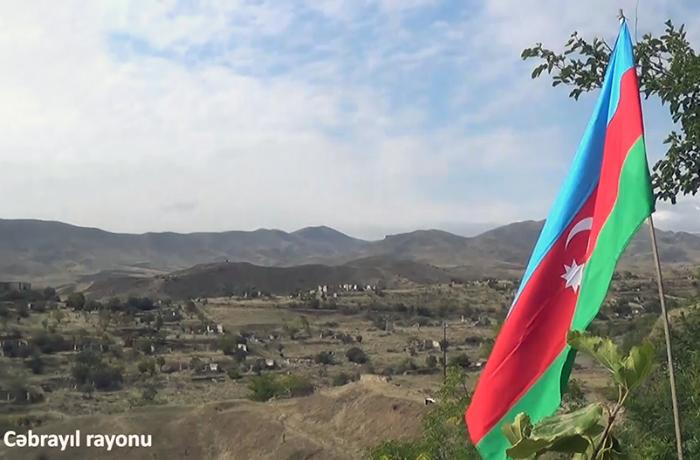 We do believe that our victorious Army, which has achieved historic success in just one month, will soon raise our flag in Shusha, Khankendi and Lachin, and we are looking forward to those days.
Victory is with us! Karabakh is Azerbaijan!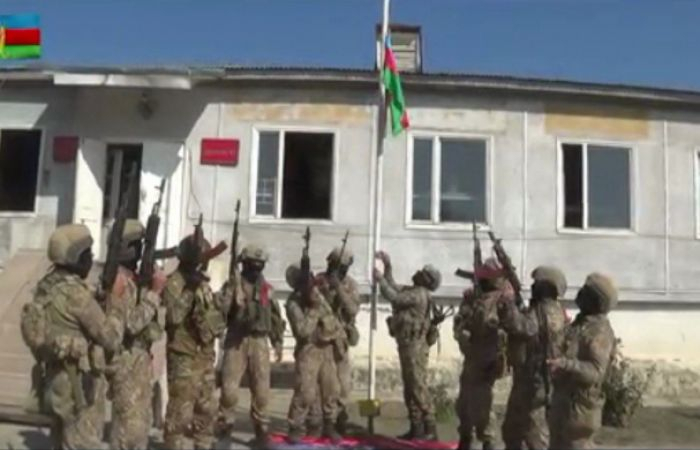 More about: