Argentina's daily 'Clarin' newspaper and the news channel 'tn.com.ar' have published an article entitled "Ilham Aliyev expects more progress on the issue of the agreement with EU" by the Spanish news agency 'EFE'. 
The article also wrote information about the meeting between President of Azerbaijan Ilham Aliyev and Minister of Foreign Affairs and Trade of Hungary Peter Szijjarto in a video format on March 10.
Spanish-language publication notes: "President Ilham Aliyev said that he expected more progress in the framework agreement on cooperation between Azerbaijan and the European Union." 
Publications include citations from Ilham Aliyev's speech: " We are now in the final stage of the discussions on the new agreement due to the pandemic and war. These discussions obviously were put on hold but absolute majority of the items have been already agreed. So, I am sure that in the coming months there should be more progress. "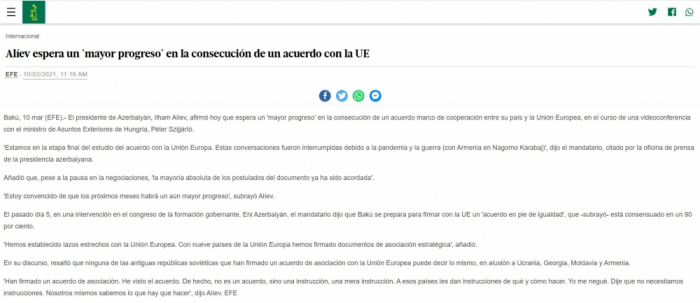 More about: #EU #IlhamAliyev