The mass vaccination programme to protect people from the coronavirus has started globally to combat the pandemic and Azerbaijan leads among the CIS countries in terms of vaccinations per capita of population in accordance with the statistics, AzVision.az reports
Azerbaijan started the vaccination of persons belonging to risk groups ordering 4 million doses of the CoronaVac vaccine developed by China-based pharmaceutical company Sinovac in accordance with the national vaccination strategy. To date, Azerbaijan administered a total of 746,608 doses of vaccines and nearly 250,000 people were fully vaccinated against Covid.
But in recent months, several new variants of the original virus have been spotted in some countries that linked to an increased death rate. In this case, vaccination can play an important role. If the vaccination campaign is accelerated, it will be possible to decrease mortality and hospitalization rates, especially among those at risk.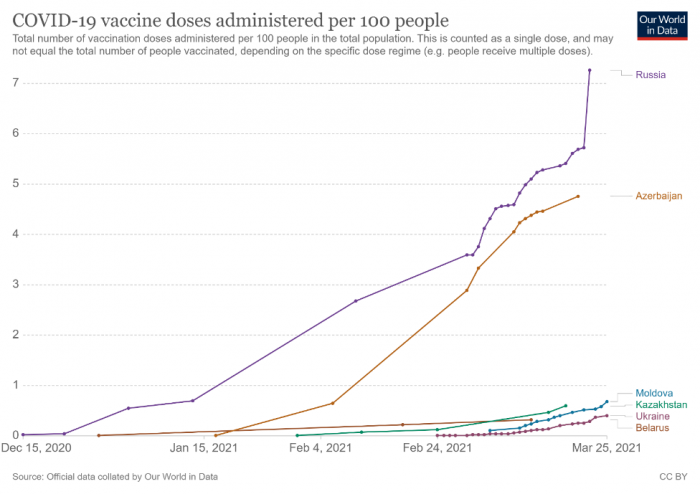 According to the statistics, as of March 26, 2021, some 5.2% of Azerbaijan's population (518, 867 people) received a first dose of the coronavirus (COVID-19) vaccine, while in Russia the number of vaccinated persons is around 6,300,000, which is 4. 3% of the total population of the Russian Federation. In Belarus, Moldova and Ukraine, this number is 2%, and in Kazakhstan, it did not exceed 1%.  Although Georgia has access to 72,400 doses of the vaccine, only 5,000 people have been vaccinated. On the other hand, Armenia has not yet started the vaccination process.
More about: