The European media has a very ill temper: when Azerbaijan is getting ready to host a major international event, they try to hurt its reputation. And now, on the eve of the European Football Championship, an unfair penalty was awarded to Baku in the information field.
A huge difference appeared in comparison with the previous ones as the Russian media where the Armenians are considered as the main figures, entered this penalty game. It is not that difficult to understand it: the person who created the problem (Nobel Arustamyan) is Armenian, the mother of the head of the channel he works for (Tina Kandelaki) is Armenian ... It is clear from where we received the blow.
However, Azerbaijan has given anyone the reason for being targeted by any kind of smear campaign. Seven years ago, Nobel Arustamyan, a football commentator for the Russian Match TV channel, was added to the list of undesirable people for violating the laws of Azerbaijan and illegally travelling to Karabakh. Well, there was no sign of hosting the European Championship in Baku in 2014. This is a common practice for any country. If you violate the laws of Russia, France, Germany or other countries, of course, they will blacklist and prevent you from entering their territories again. This is very simple and logical. If you ask why Azerbaijan blacklisted Arustamyan, the answer is very clear- he disrespected the territorial integrity.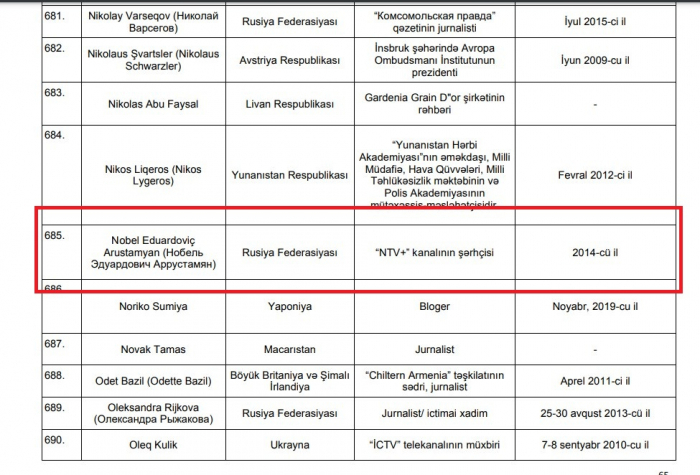 Obviously, this is not about football. As he raised this issue on the eve of the football championship, he created a motive to attack Azerbaijan. This is the old tactic and goes beyond Arustamyan's illegal travel to Karabakh.
The European media conducted its very first campaign against Azerbaijan when the Nabucco project was rejected. Although this project was consistent with the interests of the United States and Europe, they did not take any real steps towards the implementation of the project. When Russia and Turkey reached an agreement on South Stream in 2009, the issue lost its relevance, and in 2013 it was officially rejected. Later, Azerbaijan carried out the Southern Corridor project. With this achievement, Azerbaijan proved how to realize the idea for the ones who initiated Nabucco but did nothing for its implementation. However, the European media attacked Azerbaijan with wholly unfounded and totally unjustified allegations.
In 2012, when Baku hosted the Eurovision Song Contests, there were already prepared tactics. In order to divert the attention from the music holiday, European media massively attacked Azerbaijan fabricating excuses such as "human rights". At that time, we still were in confusion and it was not clear what was happening and why. 
When the first European Games were held in Baku, the situation was repeated more severely. Although it was a real sports holiday for Europe, some people secretly gave an instruction to turn the games into a campaign of negative promotion of Azerbaijan. 
Then, we got wind of it: If each time there is a smear campaign in the face of an event that will have a positive impact on the country's reputation, it means that there is no coincidence and it is some kind of conformity. 
Indeed, such a tendency was also experienced during the 2016 Formula 1 Grand Prix in Baku. Again the same method and goal. 
2017. Baku hosts the Islamic Games but faces a media attack based on fabricated pretexts.
Finally, 2021. European Football Championship. Armenian commentator, who was blacklisted due to violation of country's law seven years ago acts as a main commentator. And no one questions it: Who is to blame? A person who prefers Armenian to journalism and disrespects the territorial integrity of a state or a country which blacklists him?
This time Armenia's passion to attack Azerbaijan is much more powerful: Following the "Partiotic War", they try to attack even in hit or miss manner, in every chance they get. Besides, the fact that Turkish President Recep Tayyip Erdogan and his family will visit Azerbaijan and Shusha during the European Football Championship embitters them. 
In 2014, Arustamyan came to Azerbaijan not as a journalist, but as an Armenian. And now he acts as an Armenian, not a journalist at the European Championships. Principled stance regarding this issue had to be shown differently . For instance,taking a principled stance the UEFA could not accredit an Armenian journalist who violated the laws of Azerbaijan. This would be a just stance for it. UEFA would show that it follows the rules of "fair play" off the field. However, in this case like all European institutions, it has shown a principled stance in only one thing: unprincipledness. There is a football holiday ahead. We hope that, at least, those who cannot stand Azerbaijan will grit their teeth and bear in order not to spoil the joy of football. Let's a have fair play. 
More about: