Yerevan denied the involvement of mercenaries in the war. Interestingly, the Armenian media exposed the official Yerevan in most cases. An example of this is the interview of one of the American mercenaries, who fought in the Armenian army during the Karabakh war. Armenia has been so 'generous' that a US citizen decided to stay in Yerevan after the war.
The article reads that a 40-year-old American of Armenian origin came to Yerevan in October last year and left for the contact line
AzVision.az presents excerpts from the interview:
- James (name changed) was born in America and worked as a firefighter for many years before retiring. His parents and brother currently live in the United States. We met James in a rented accomodation in Yerevan. 35-year-old person, who has been his commander during the 44-day war was also with him. Comrades call the commander "Kerry". 
The commander said that James joined them in Tagaward in October. He was surprised why this American was allowed to the front line. The American citizen admitted that he flew across the ocean to join the special battalion.
I was thinking that war would start again in Karabakh. I might have some problems because of my US passport. I wanted to have a more detailed idea on how the Armenian army acts. Therefore, I decided to come to Armenia for ten days to attend a VOMA ("military patriotic" organization) gathering. "Coincidentally", I decided to buy tickets to Yerevan on September 27. Afterwards, I learned that everything started again, -mercenary told the journalist making up this story.  
The American said that he risked his life every day: "Death is not scary for me. I knew that my brain could work during the war. When I came to Armenia, I was sent to Karabakh as a "nurse". However, his commander interrupted and said that "James took the submachine gun immediately."
During the interview, it was also underlined that James also fought in groups created by VOMA in Tagaward and Girmizi Bazaar.  
It is no secret that Armenia involved mercenaries and terrorist groups in the fighting against Azerbaijan during the Karabakh war. Azerbaijan has unveiled a number of undeniable facts in this regard.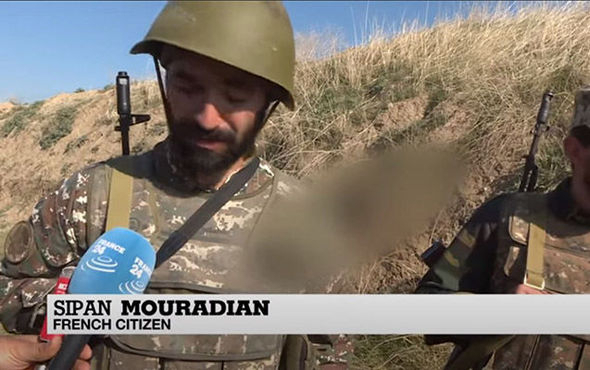 Following the war, Armenians confessed their actions, which were contrary to the international conventions. They don't hide the involvement of foreign citizens from Russia, France, Lebanon, US and other countries in the war in Karabakh. 
More about: #KarabakhWar