Holding up Poland as an example of a country ready to defend civilisation, he will warn against the threats of "terrorism and extremism".
Poland's conservative government shares Mr Trump's hostile view of immigration and strong sense of sovereignty.
Mr Trump is in Poland ahead of a G20 summit in Hamburg, Germany.
"Because as the Polish experience reminds us - the defence of the West ultimately rests not only on means but also on the will of its people to prevail," Mr Trump will say, according to excerpts released from the speech.
"The fundamental question of our time is whether the West has the will to survive."
What else will Trump say in the speech?

Appearing on a stage at the monument to the 1944 Warsaw Uprising on Warsaw's historic Krasinski Square, Mr Trump will also reaffirm US support for Eastern Europe ahead of his first meeting with Russian President
Vladimir Putin
at the G20 summit in Hamburg, the BBC's James Landale in Warsaw reports.
Mr Putin called for an end to sanctions against Russia as well as trade protectionism in an editorial published in German newspaper Handelsblatt.
In another part of his speech, Mr Trump will also make a strong attack on red tape, condemning "the steady creep of government bureaucracy that drains the vitality and wealth of the people".
Giving a news conference hours before the speech, Mr Trump:
- Called on countries to demonstrate to North Korea that there were consequences for its "very bad behaviour" and said "something will have to be done about it"
- Said America's "strong alliance with Poland and Nato" remained "critical to deterring conflict"
- Accused Russia of "destabilising behaviour"
- Said in reference to
Syria
that "any nation which values human life can never tolerate the use of chemical weapons"
American gas for Europe?

After being welcomed by President Andrzej Duda at Warsaw's Royal Castle, Mr Trump attended the Three Seas summit - a Polish and Croatian initiative bringing together 12 nations between the Baltic, the Adriatic and the Black Sea.
The Polish government is trying to become less energy-dependent on Russia, and last month the first ever US liquefied natural gas (LNG) shipment arrived.
Commending American LNG, Mr Trump told the news conference: "You can never be held hostage to a single supplier."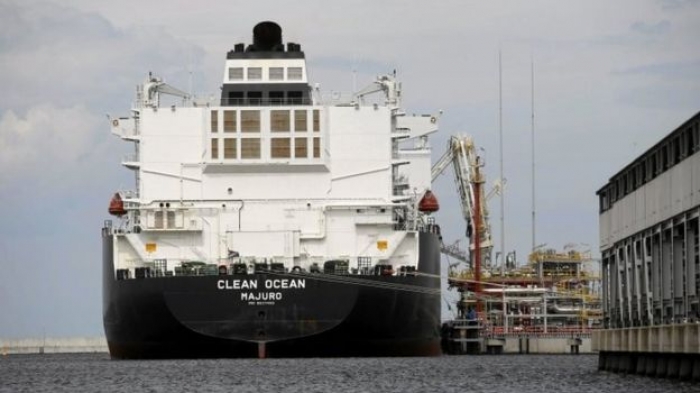 The first US shipment of liquefied natural gas arrived in Poland in June

A global glut in supply, however, has depressed prices and made it difficult for LNG exporters to turn a profit, Adam Sieminski, an energy analyst with the Center for Strategic and International Studies, was quoted as saying by Reuters news agency.
Warsaw and three Baltic states have spoken against the construction of an offshore Russian gas pipeline to Germany, known as Nord Stream 2.
"Europe is going to be the great competitive arena between Russian gas and LNG," oil historian Daniel Yergin was quoted as saying by Reuters.
How big is Trump's visit for Poland?

Disappointingly perhaps for Mr Trump and his Polish hosts only a small crowd turned out in the sunshine to greet him at Warsaw's Royal Castle, the BBC's Adam Easton reports.
He entered through the back door so those that did come did not even catch a glimpse of him.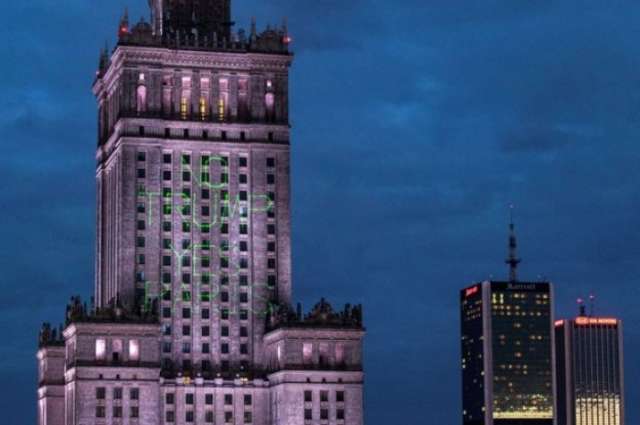 Greenpeace activists illuminate the Palace of Culture and Science with words "No Trump Yes Paris"

Mr Duda said earlier that Mr Trump's visit showed Poland was a "country that matters". "And it strengthens our position in the
European Union
," he was quoted as saying by Reuters.
Poland has been at odds with fellow EU states over its government's moves to exert control over the courts and the media.
A warm reception in Warsaw may also benefit Mr Trump's image with Americans after his earlier visit to Europe in May, Piotr Buras of the European Council on Foreign Relations, told AFP news agency.
"After his disastrous trip to Brussels and Taormina, friendly pictures with European leaders and cheering crowds at his public speech could help Trump repair his image at home," he said.
However, the Polish branch of Greenpeace is using Mr Trump's visit to Warsaw to protest against his decision to pull the US out of the Paris climate agreement.
The words "No Trump Yes Paris" were projected in huge green letters on the city's Palace of Culture and Science on Wednesday.
Will the G20 go smoothly?

Later on Thursday, the US leader will travel to Hamburg for what could be a potentially fractious summit.
He has fallen out with some EU nations over climate change and trade. UK Prime Minister Theresa May will challenge him over climate change, saying an international agreement on the issue should not be renegotiated.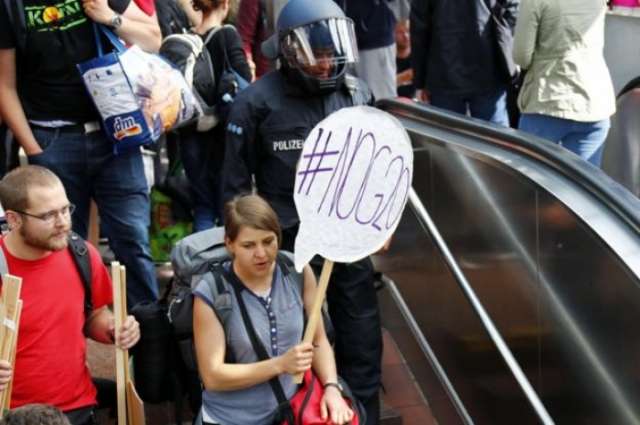 "No G20": Demonstrators arrive by train in Hamburg on Thursday

"She will say that we don't see any need for renegotiation - we support the Paris Agreement because it delivers," an official within the UK government said.
Aid organisations are expected to hold demonstrations in Hamburg urging the heads of government to do more to tackle inequality.
"It's important because you have the biggest meeting of all of the leading rulers of the main countries in the world - the G20 - and I don't like some of the politics that they're doing, especially that of [Recep Tayyip] Erdogan, of Putin and of Trump," one protester told the BBC.
"And if they're all here what better way to exercise our democratic rights and to show that we are not in favour of a lot of the policies that they are doing?"
Security in Hamburg has been tightened, with police warning of potentially violent clashes. They have already confiscated a number of homemade weapons.
Critics accused police in Hamburg of heavy-handed tactics after they used water cannon to disperse protesters camping near the conference venue earlier this week.
Which trade deal does not involve Trump?

EU leaders are meeting Japanese Prime Minister
Shinzo Abe
in Brussels to give their seal of approval to a landmark free trade deal.
It is estimated that 99% of trade between Japan and the EU will be liberalised, while an accompanying strategic partnership deal will see them co-operate in other areas, from climate change to tackling terrorism.
Both want to show they are committed to a world order built on open trade and international co-operation, in contrast to Mr Trump's America that is turning inward, the BBC's Europe correspondent, Damian Grammaticas, reports.
EU-Japan trade talks had stalled after four years but when Donald Trump took office and scrapped his own possible Pacific trade partnership this year, it spurred them into action, and they resolved most of their differences in a matter of weeks.