"There are still more than 50 active secessionist movements around the world, says Ryan Griffiths, author of "Age of Secession: The International and Domestic Determinants of State Birth," Bloomberg writes.
The five Separatist Movements includes the Armenian controlled Separatist regime in Nagorno Karbakh, Scotland, Transnistria, Iraqi Kurdistan and Mindanao.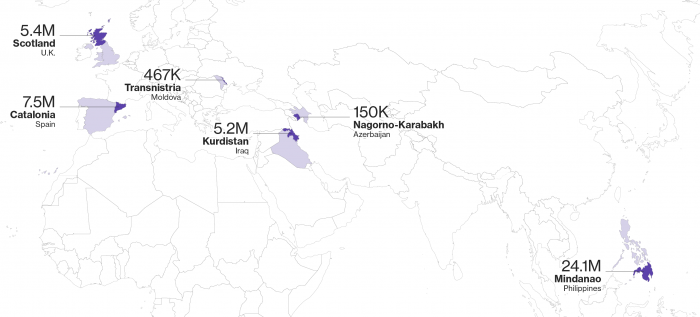 "Armenians took over the Nagorno-
Karabakh
enclave and seven surrounding districts of Azerbaijan as a buffer zone in a 1991-1994 war that killed 25,000 and created a million refugees following the Soviet Union's collapse. While a Russian-brokered cease-fire halted the fighting, international mediators have failed to forge a peace deal since then. Tensions are high after hundreds died in April last year in a four-day war that erupted along the contact line separating Armenian and Azerbaijani forces, the worst fighting in 23 years.
Armenia, which provides financial and military support, says Nagorno-
Karabakh
has a right to self-determination, though it hasn't recognized the region as an independent state. Azerbaijan insists its territorial integrity must be upheld, while it says it's ready to offer the region greater autonomy", Bloomberg writes.
The conflict between the two South Caucasus countries began in 1988 when Armenia made territorial claims against Azerbaijan. As a result of the ensuing war, in 1992 Armenian armed forces occupied 20 percent of Azerbaijan, including the Nagorno-Karabakh region and seven surrounding districts.

The 1994 ceasefire agreement was followed by peace negotiations. Armenia has not yet implemented four UN Security Council resolutions on withdrawal of its armed forces from the Nagorno-Karabakh and the surrounding districts.
More about: #Bloomberg #Azerbaijan #Armenia