President Trump expressed support for the protesters Friday night in a tweet calling on the Iranian government to "respect their people's rights":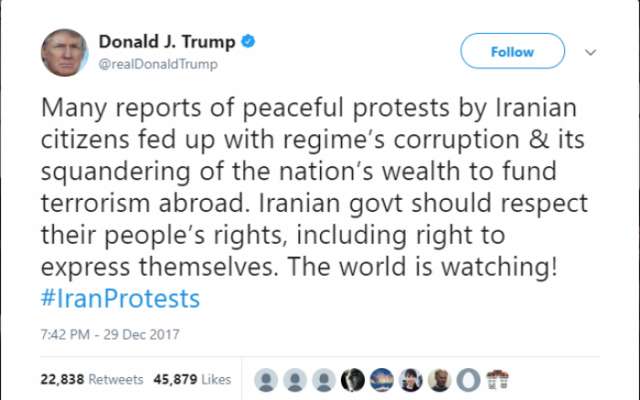 The semi-official Fars news agency reported that officials said around 300 protesters gathered Friday in the western city of Kermanshah, the scene of a devastating earthquake in November that killed more than 600 residents. In Tehran, fewer than 50 people protested at a public square.
Such mass protests without police permission are unusual in Iran, and those taking part face arrest.
Fars reported that protesters in Kermanshah chanted anti-government slogans such as "never mind Palestine, think about us," "death or freedom" and "political prisoners should be freed." They damaged some public property before police dispersed them.
Police also arrested a small number of demonstrators in Tehran protesting price hikes and the president's economic policy.
The U.S. State Department condemned the arrests earlier Friday.
"Iran's leaders have turned a wealthy country with a rich history and culture into an economically depleted rogue state whose chief exports are violence, bloodshed, and chaos," State Department spokeswoman Heather Nauert said in a statement. "As President Trump has said, the longest-suffering victims of Iran's leaders are Iran's own people."