The state-run al-Ahram newspaper said Mr Sisi had won almost 92% of the 25 million votes counted so far.
His sole challenger was Moussa Mustafa Moussa, a little-known party leader who had supported his re-election until his last-minute decision to enter the race.
Other potential candidates dropped out or were arrested, prompting opposition figures to call for a boycott.
Mr Sisi led the military's overthrow of Egypt's first democratically-elected president, Mohammed Morsi, in 2013 following mass protests against his rule.
Since then, he has overseen what human rights groups say is an unprecedented crackdown on dissent that has led to the detention of tens of thousands of people.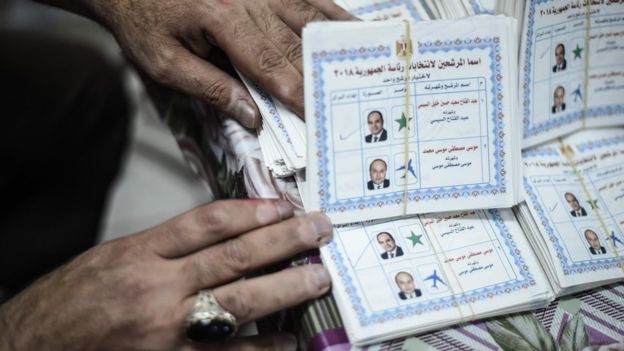 With Mr Sisi's re-election appearing certain before voting began on Monday, many analysts said turnout would be an important measure of his mandate.
It was 47% at the last election in 2014, when Mr Sisi won 97% of the vote.
The election commission announced that polling stations would remain open for an extra hour on Wednesday after warning that people who did not vote would be fined 500 Egyptian pounds ($28; £20) - a threat rarely acted upon in previous polls.
There were also reports that some people were offered incentives of money and food to cast their ballots, or promised improved public services.
A spokeswoman for the Sisi campaign told the BBC that it was a "one million per cent democratic process".
She said: "The evidence is that all the Egyptian people, including big numbers of youths and elderly, have come out to vote."
Mr Sisi hailed the participation of Egyptians in the polls on Wednesday night, saying it reflected "the greatness of the country".
"The votes of Egyptian masses will certainly remain a witness that our nation's will is strongly prevailing," a statement on his Facebook page said.
The final results are expected to be announced on Monday.
More about: Egypt