The buildings – one condemned and supposedly vacant, the other containing apartments – gave way after 9am. In the spot where they had stood, a large gap appeared once the dust and debris settled.
Throughout the night, emergency services combed through the 15m deep rubble left by the collapse. France's interior minister, Christophe Castaner, said five to eight people were missing from the building and that he was "not very optimistic" that they would be found. Five residents had not responded to calls and three were visiting people in the building.
"There's not much chance that we'll find pockets where anyone might have survived," Castaner said on Monday evening. He was expected to make a further statement on Tuesday morning.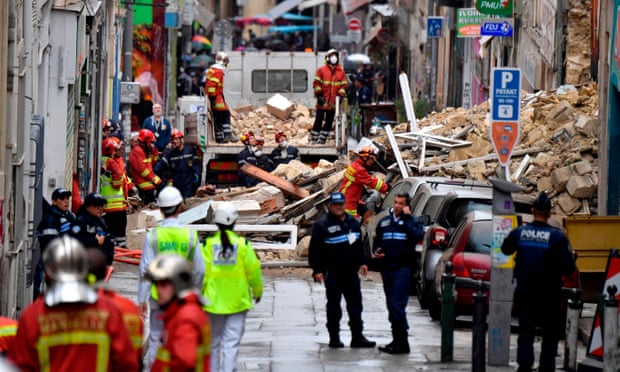 After working all night, search teams removed parts of the building from the road under which they found a crushed car.
Renaud Muselier, the president of the Provence-Alpes-Côte d'Azur region, said among the missing was a woman who had failed to collect her daughter from school and another woman who rarely left her home in the building.
Sophie, a 25-year-old philosophy student, who was living in one of the destroyed buildings had stayed with her parents the night before the collapse.
"For several days the doors to several flats wouldn't close, or had difficulty closing, including mine. I was afraid of being imprisoned in my home with the door blocked," she told AFP.
At number 65 rue d'Augagne, nine of the 10 apartments were occupied.
Marseille fire services said two people who were in the street when the buildings collapsed were treated for light injuries.
Fire officials deliberately brought down most of a third building due to concerns the unstable structure might cave on top of search crews and sniffer dogs combing the rubble of the other buildings. The late afternoon demolition released more dust clouds.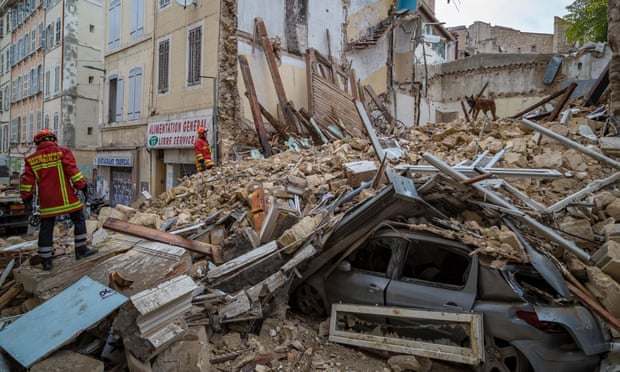 Authorities said one building had been condemned as substandard and was assumed to be unoccupied, but the other was inhabited.
Thick dust covered cars around the site near Marseille's famous Old Port. Images of the buildings before they collapsed, visible on Google Street View, showed that one of the buildings was clearly in poor repair, with boarded-up windows and large visible cracks on the facade before it collapsed.
Sabine Bernasconi, the local mayor for that part of Marseille, said one of the buildings was subject to an evacuation order, but could not say for sure that squatters were not using it.
The regional prefecture urged people to avoid the area and make way for emergency services.