Neil Young, Robin Thicke, Gerard Butler and Miley Cyrus are among those whose houses were ravaged by the Woolsey fire raging north of Los Angeles in Southern California, according to the entertainers' respective online posts.
Butler posted a photo on Twitter of the charred remains of his Malibu home and thanked firefighters for their courage.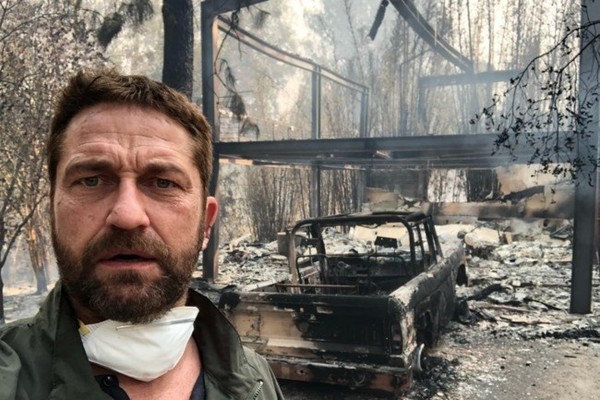 Thicke posted a statement on Instagram thanking firefighters and volunteers who "risked their lives trying to save our home."
Cyrus said on Twitter that she was "completely devastated" by the fires affecting her community.
"I am one of the lucky ones. My animals and LOVE OF MY LIFE made it out safely & that's all that matters right now. My house no longer stands but the memories shared with family & friends stand strong. I am grateful for all I have left. Sending so much love and gratitude to the firefighters and LA country Sheriff's department! "
A subsequent tweet pointed to ways people could help those affected by the fires.
In a post on his official website decrying the impact of climate change, Young said "I have lost my home before to a California wildfire, now another."
The Woolsey fire is one of three major blazes burning across California. As of Sunday night, the fire had spread to 85,500 acres and was 15% contained.
Together with the smaller Hill fire, which spans 4,531 acres, the Woolsey fire has so far destroyed 179 structures, but fire officials say another 57,000 are threatened. The Hill fire was 75% contained as of Sunday night.
The third fire, Northern California's Camp fire, is the most destructive in state history and one of the deadliest. That blaze virtually burned the town of Paradise to the ground, destroying thousands of homes and structures. Some 228 people are unaccounted for.
At least 31 people have died in the fires: 29 in the Camp fire and two in the Woolsey fire.
CNN
More about: California