A large hole was torn into the side of KNM Helge Ingstad when it collided with a Malta-registered oil tanker, Sola TS, in the early hours of November 8.
The frigate, one of five in the Scandinavian country's navy, had been moving around inner fjords in western Norway for navigation training before it collided with the 250-meter long tanker (820 ft) that was sailing out of an oil terminal.
While military crew reportedly drove the vessel up on underwater rocks in order to prevent it from sinking, the tanker emerged relatively unscathed.
But efforts to move the 5,500-ton warship to a safe place went catastrophically wrong this week after cables attached to hold it in place snapped.
Now all that remains above the waterline is the frigate's top, antennas and radar, leading local media to speculate how a ship designed for war failed to avoid a slow-moving 150,000-ton tanker.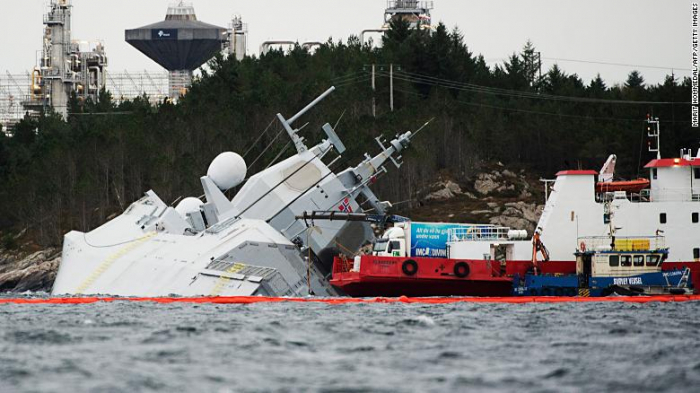 The KNM Helge Ingstad pictured on November 10, 2018 in the Hjeltefjord near Bergen. The frigate, which was returning from NATO's Trident Juncture exercises, was evacuated after the collision with the Sola TS tanker, Norway's army said.
Norway's military has remained tight lipped about the situation, which injured eight of the 137 people on board. Navy communications officer Torill Herland told CNN that whatever occurred during the accident near Bergen is now "police work."
A joint Norwegian and Maltese investigation is now also underway to try and determine the cause.
Similar cases involving US Navy destroyers over the last two years were found to have been down to avoidable errors, according to Alex Pape, Editor of Jane's Fighting Ships, but he said it is too early to speculate on this incident.
"Warships, particularly surface combatants like frigates, are generally designed to withstand a degree of battle damage," Pape told CNN.
"However, even for well protected warships, if they sustain sufficient damage, particularly in adjacent compartments and below the waterline, the resulting flooding may be too much for pumps and/or the crew's damage control efforts to cope with, and the ship will list, capsize or sink.
Pape said this particular incident suggests that in addition to a visible large hole torn in the starboard side, there is substantial damage to the hull near or below the waterline, which then rapidly flooded the aft compartments of the ship.
More about: Norway