In the letter, the Colombian lawmakers offered their deepest condolences over the 27th anniversary of the Khojaly genocide and expressed their solidarity with the people of Azerbaijan.
The letter calls the ferocious killing of 613 people during the Khojaly genocide a crime against humanity, and expresses regret over the fact that over a million people have become refugees and IDPs as a result of Armenia's military aggression against Azerbaijan.
In addition, Jaime Duran expressed hope that the people of Azerbaijan will not face such atrocious tragedies again and the [Nagorno-Karabakh] conflict will be resolved soon within the territorial integrity of Azerbaijan through the negotiations. He also wished the people of Azerbaijan peace and prosperity.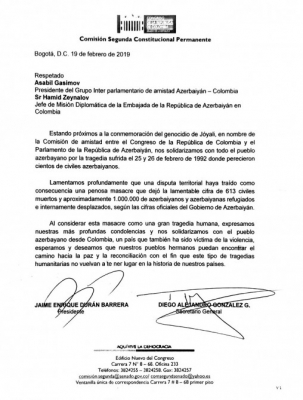 More about: Colombia Khojaly-genocide