A guard of honor was arranged for the Georgian President in the square decorated with the national flags of the two countries.
President of Azerbaijan Ilham Aliyev welcomed Georgian President Salome Zurabishvili.
The chief of the guard of honor reported to the Georgian President.
President Ilham Aliyev and President Salome Zurabishvili
reviewed the guard of honor.
The Georgian President saluted the Azerbaijani soldiers.
The state anthems of Georgia and Azerbaijan were played.
State and government officials of Azerbaijan were introduced to President Salome Zurabishvili, and members of the Georgian delegation were introduced to President Ilham Aliyev.
The guard of honor marched in front of the heads of state to the accompaniment of a military march.
The presidents posed for official photos.
***
Georgian president Salomé Zourabichvili visits Azerbaijan on February 27, AzVision.az reports.
At the Heydar Aliyev International Airport decorated with national flags of both countries, a guard of honor was lined up in honor of the Georgian President.
First Deputy Prime Minister Yagub Eyyubov, Deputy Foreign Minister Nadir Huseynov and other officials welcomed the Georgian President Salome Zurabishvili.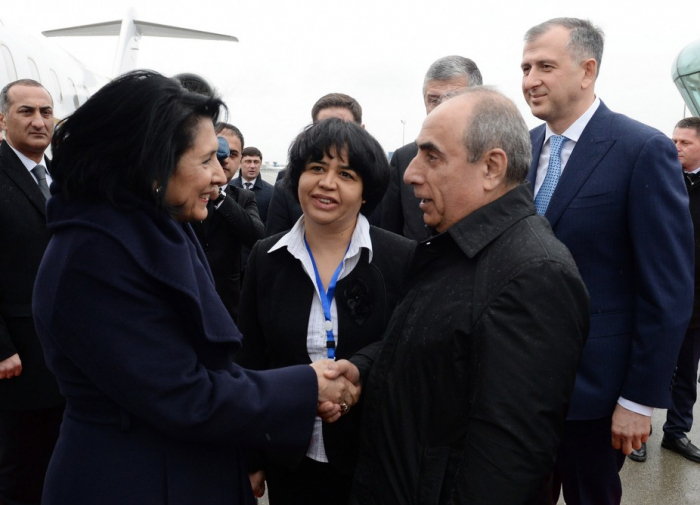 ***
The aim of the president's visit is to develop a strategic partnership with Azerbaijan. Zourabichvili will hold meetings with Azerbaijan Prime Minister of Azerbaijan Novruz Mammadov, Speaker of the Milli Majlis of Azerbaijan Ogtay Asadov, Georgian students in Azerbaijan and the business representatives. 
Note, it will be Salomé Zourabichvili's first official visit to Azerbaijan following the presidential elections. 
More about: Georgia