Chairman of the People's Republic of China Xi Jinping met President Ilham Aliyev. The heads of state posed for official photographs.
Addressing the meeting, Chairman of the People's Republic of China Xi Jinping said:
- Mr. President Aliyev,
I warmly welcome you to the 2nd International Forum 'One Belt, One Road' in China, Beijing. The Azerbaijani side and you personally attach great importance to the development of the Chinese-Azerbaijani relations and the joint implementation of the 'One Belt, One Road' initiative. We appreciate it.
Azerbaijan is one of the main partners of China in cooperation in Eurasia. Azerbaijan is located on the Great Silk Road and is a partner in restoring this road. Our cooperation now has some results, and this cooperation is a real benefit to our peoples. Together with you, I am ready to continue the realization of the 'One Belt, One Road' project and to deepen mutually beneficial cooperation in all spheres for joint development and prosperity.
The Chinese Communist Party is ready to intensify relations with the New Azerbaijan Party, to exchange experience in public administration, and to strengthen mutual trust between the two countries.
Addressing the meeting, President of the Republic of Azerbaijan Ilham Aliyev said:
- Dear Mr. Chairman, thank you for your kind words about our country, your evaluation of the relations between our peoples and between our countries. Thanks for the invitation to participate in the 2nd International Forum 'One Belt, One Road'. Your invitation is a sign of friendship and respect for our country.
Holding this Forum is of great importance. As you mentioned, Azerbaijan has supported your initiative from the very beginning and is actively advancing this project within the framework of our initiatives. I would like to recall my state visit to your country in 2015. At that time, we signed a Memorandum of Understanding on the Silk Road Economic Pipeline. Today our political relations are at a high level. We actively cooperate with international organizations.
China's Xi Jinping hailed the successful internal and foreign policy of Azerbaijan under the leadership of President Ilham Aliyev highlighting the stability, the international prestige of Azerbaijan and improvements made in the welfare of the people and in the field of economy. Besides, Jinping highlighted China's support to the territorial integrity of Azerbaijan. Chinese leader also stressed the significance of the Trans-Caspian Transport Corridor for "One Belt, One Road" project.
President Ilham Aliyev, in turn, stressed his support for the "One China" policy. The head of state delivered his congratulations on China's succes in many fields.
The sides exchanged views on infrastructure, logistics, energetics, tourism, agriculture, intvestments, information and communication technologies, education and humanitarian fields, as well as the prospects for cooperation between law enforcement agencies of Azerbaijan and China and combating against international terrorism. Azerbaijani President Ilham Aliyev had extended an invitation to Chinese President Xi Jinping  to visit Azerbaijan at his convenience.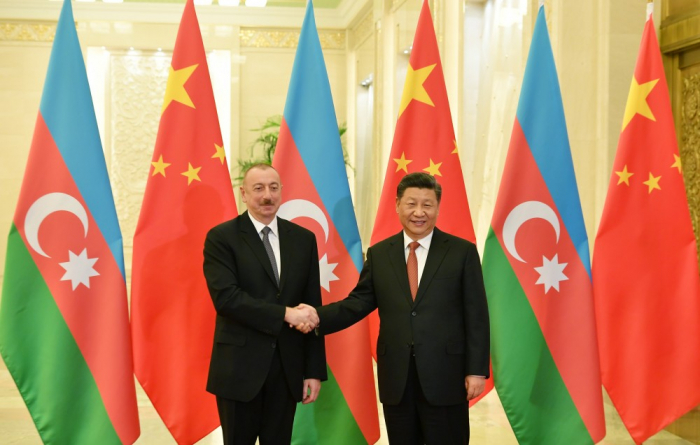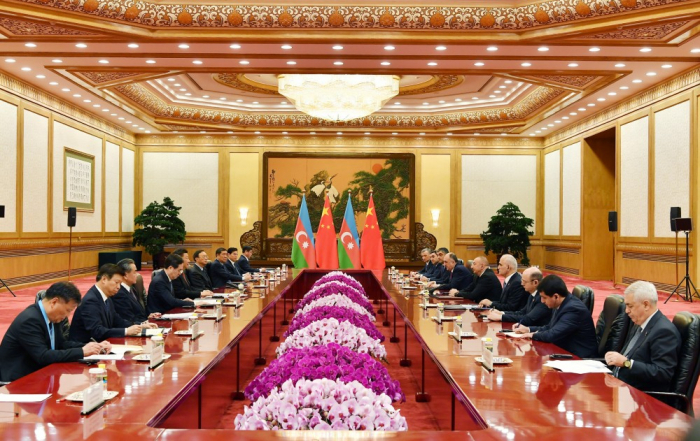 More about: Ilham-Aliyev Xi-Jinping