The document notes that on May 28, 1918, Azerbaijan declared its independence establishing the Azerbaijan Democratic Republic, which became the first secular parliamentary democracy in the Muslim world, and emphasizes that Azerbaijan granted all people the right to vote regardless of race, gender, ethnicity and religion, becoming the first Muslim nation to grant women equal political rights with men. It was also recognized by other democratic nations, including the United States of America.
At the same time, the document emphasizes that Azerbaijan's independence was interrupted in 1920, when it was invaded by Bolsheviks, and forcefully incorporated into the USSR in 1922 to restore its independence only in 1991.
It is noted that over the last 28 years, the Republic of Azerbaijan has consolidated its sovereignty and independence, and has become a staunch ally and strategic partner of the United States in the critically important Caspian region.
The Declaration will be celebrated as a national day by Azerbaijanis living in Portland and elsewhere in the world on May 28 due to the 100th anniversary of the diplomatic service of the Republic of Azerbaijan and the celebration of the 101st anniversary of the Azerbaijan Democratic Republic and that their ancestors will be represented in the Caucasus, Central Asia and the Middle East will be remembered.
The statement says that this year, on the occasion of the centennial of the Azerbaijan Democratic Republic and the 100th anniversary of the Azerbaijani diplomatic service, millions of Azerbaijanis around the globe, including tens of thousands in the United States of America observe May 28 as the National Day and remember the contribution of their forefathers to the spread of democracy in the regions of Caucasus, Central Asia and Middle East.
In the end, Mayor Ethan King Strimling announced May 28, 2019 as the Day of Azerbaijan in Portland.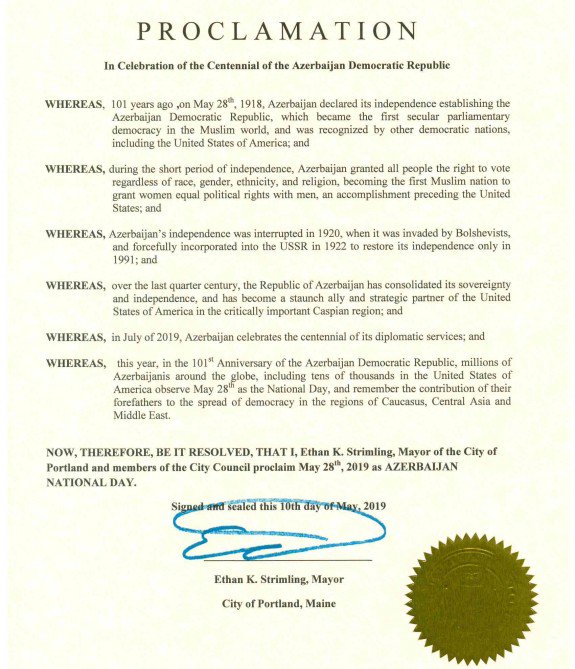 More about: Portland Maine USA Azerbaijan ADR-101