During my last month in Dubai, before I travel back to Mumbai, India to spend some time with my family I decided to spend a few weeks in the Caucasus. So while planning Azerbaijan, Baku was all I knew of. However being less of a tourist and more of a traveller, less travelled paths has always inspired me and that's where I have always found the true culture of any country. My interests lately have been autonomous regions, and the more I travel to these hidden gems the more I fall in love with the people from such regions. I encountered the name Autonomous Republic of Nakhchivan, somewhere during my research and hardly found any travelogues from travel bloggers, whom I normally follow, but whatever little I saw really caught my eye and I decided to give it a shot within the short time I had. It was pretty straightforward to catch an AZAL flight for 70 Manat from Baku to Nakhchivan and managed to book Hotel Tabrez via booking websites. It was really funny though how everybody I met in Baku kind of either tried to discourage or scare me off from going to this region, but thank God I listened to my heart and went ahead and explored.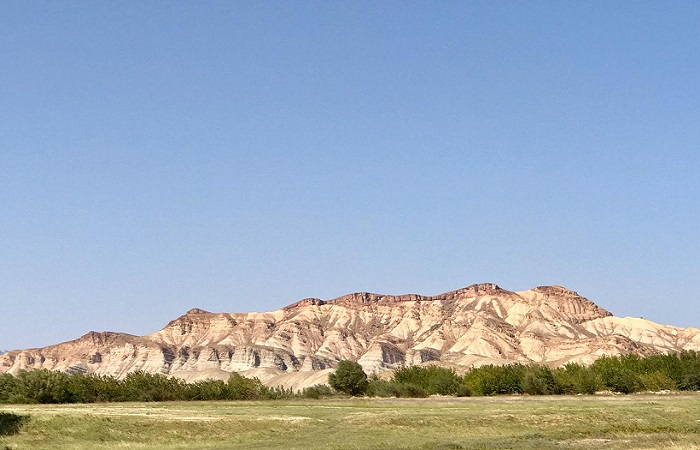 Landed almost at 1 AM in the morning on this small airport with a flight full of locals, who hardly spoke any English, but were so eager and kind to help this confused traveller. A young teenager with broken English showed me where to get a taxi to reach my hotel. It takes 5 Manat to reach the city Centre, which is some 15 mins away. On reaching the hotel I realized there was a communication mistake on my arrival time and my room was under fumigation and I can only get in the next day. The language barrier is a big barrier but again we had Mr.Elnur at the reception, who was literally the only man speaking good English. He made sure even at such an odd time that an alternate hotel lets me sleep for the night and my Taxi driver, who waited all this time with me just to see that I am not stranded in the middle of the night, took me across to this other Hotel Terminal and left only when I got my room keys. So yes I was impressed by the care that people showed towards me, who dared to visit their region all the way from India.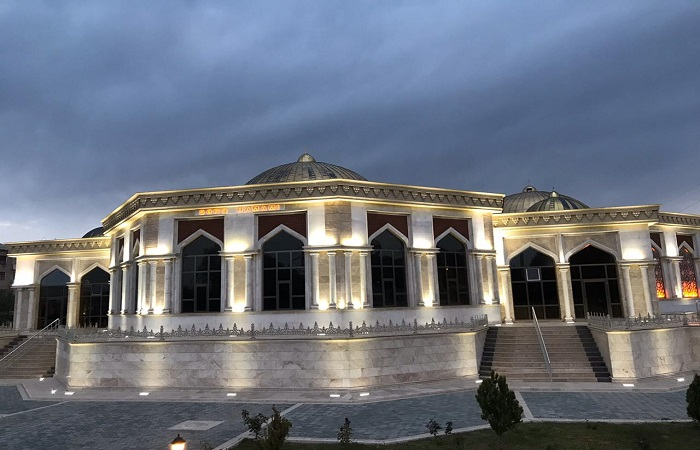 Next day morning, woke up had a nice breakfast of local bread, jam, cheese and the Nakhchivan cream (which I still miss after I came back to India) and walked through Heyder Aliyev Prospekti to Hotel Tabrez to check into my room. The hotel is I think the best of what is available and was greeted with smiling Mr.Elnur. After I freshened up and mentioned my interests in travelling across Nakhchivan, he introduced me to Kamal Yahyali, who in the next 3 days became a brother. Kamal, very motivated and a well-read young man, met me in an hour's time and we planned how we will have a look around in the next few days.
We decided to travel towards Batabat region, which is known for its lake and honey harvesting. Kamal during our drive gave me a very nice overview of how the new generation in Nakhchivan thinks. An MMA instructor by profession, I was amazed that he had a deep understanding of a lot of religion including Hinduism and also about world politics. We discussed The Bhagwat Gita and The Holy Quran and enjoyed our view of the fascinating landscape onwards Batabat.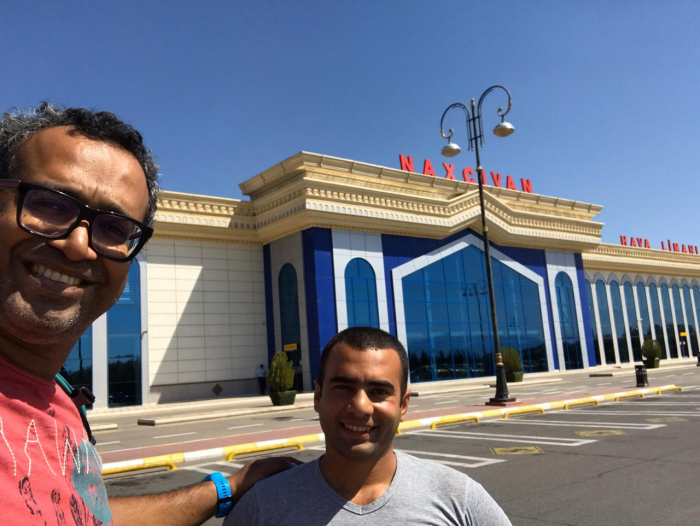 The roads are like a painting at times and like a meandering snake sometimes. The lakes every here and there are pristine. It's sometimes good to travel to places where you feel you are the only one around. Maybe that's what brings a lot of peace into people living here. Every now and then a pre soviet truck will cross you and you will feel you have travelled back in time. We arrived at lake Batabat, which is very close to the Armenian border and hence has a lot of military footfall. However, Kamal explained things to them whenever we were stopped and we will be allowed to go with a smile on hearing I am from "Hindustan", was something to remember (I think we have stopped referring India by that name ages back). The lake was beautiful and had a floating island in between. Also, there was a sweet old man selling fresh organic honey, which Nakhchivan is famous for. It's a pity I couldn't carry any home due to the flight restrictions.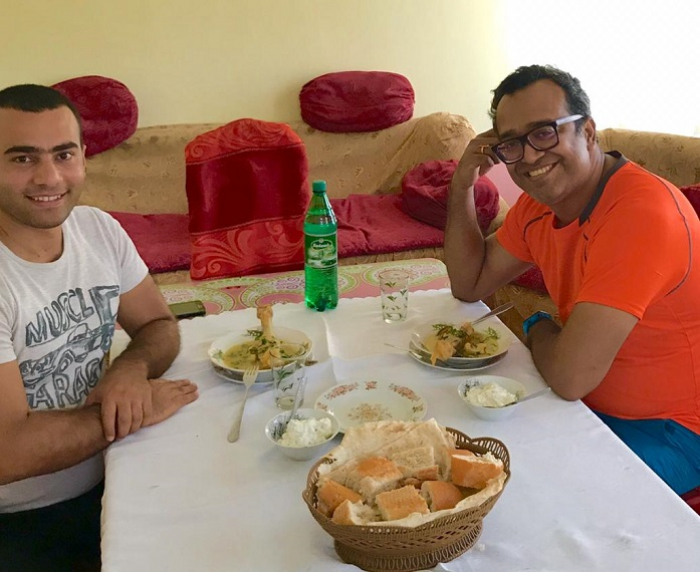 From here we tried going closer to the Armenian border to see some more sights but the local Army commander had his orders not to allow any tourists, so after exchanging some pleasantries we started on our way back to the city for lunch. By now I realized that I have kind of connection with the Azeri language as we have a lot of common words with Hindi, due to Persian roots, hence I kept amusing Kamal with that. So after enjoying the drive back we halted at the military museum where you can click a lot of military arsenals and choppers kept on display.
We stopped at the cute Café Qitab, where you can have some nice sandwiches and juices while reading books of your choice. Next destination was Duzdag, a Soviet-era salt mines which have been converted into a well-maintained hotel and therapy centre. It has been found to have effective in curing bronchitis and asthma. I think a stay here can be something unique for travellers. For me, this is something I will do on my next visit.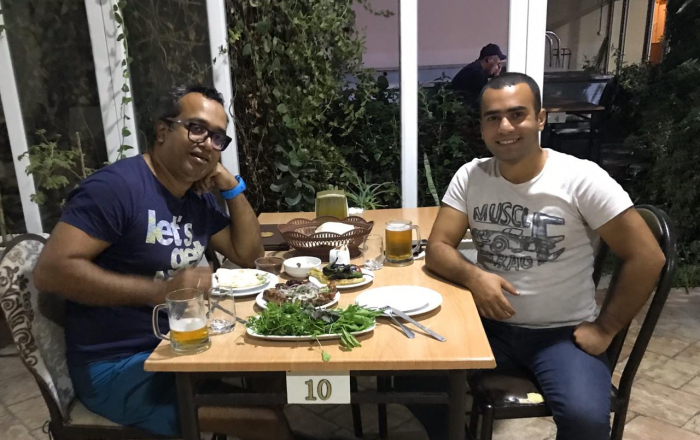 After spending some time walking in the calming salt mine tunnels, we decided to start driving again towards the town of Qarabağlar, where you can see the fascinating Mausoleum tower, which is a UNESCO heritage site.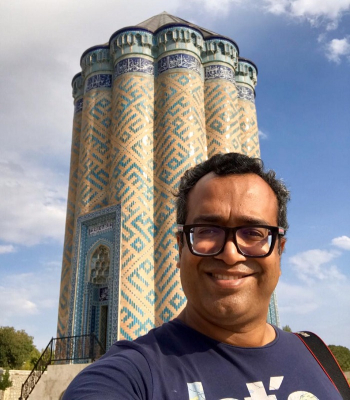 The tower is a gorgeous form of architecture with the surface of the building is covered with a polychrome carpet of patterned facing. A combination of turquoise glazed and simple bricks is forming a net of big squares put to a corner filled with a repeated inscription of Quranic maintenance.
From the beautiful government buildings to the Momina Khatun Mausoleum (which also is a national monument), to the Yezidabad castle, to the gorgeous Noah's tomb, the soviet era housings and to the local Hammams where you can have tea and chill with friends. The streets in Nakhchivan are wide and well made so walking around the city is something to enjoy in itself.
By this time we had built up an appetite for dinner and I was taken to a local restaurant called Nerges. We had some amazing ichalat, lule and tika kebabs and Qubas there along with fresh herbs. Eating out is almost a quarter priced than mainland Azerbaijan and hence very pocket-friendly. After a good walk to my hotel, I called it a night.
Next day was an early morning as we were supposed to hike to the "Əlincə Qalası" or Alinza Castle, also known as the Macchu Pichhu of Azerbaijan. An early start is recommended so that the 1600 odd steps can be climbed before the sun hits your face. The view from the top is worth every bit of the hike and we had a good time chatting while watching the magnificent Snake Mountain in front of us.
From Alinza, we moved towards Julfa, which also is the Iran border. We visited the village of Gulustan where the Gulustan Mausoleum made of pink sandstone is located. You can see Iran from here. Had some chat with the caretaker of the mausoleum, all friendly and smiley with his gold-filled tooth, which seems to be a big hit with the older Generation.
We started driving from here towards Ordubad and stopped on our way at a local farm for Lunch. I was told that I was the first tourist to stop there for food and was treated with so much warmth and hospitality. There were the quintessential fresh veggies, cheese and pickled veggies, but what was the highlight was some very exotic dishes called Macha and Bozport, which were so delicious.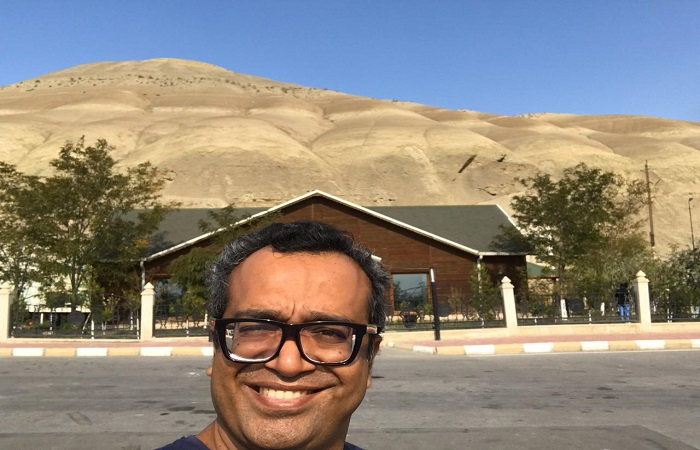 I was invited to Kamal's family house in Azadkend village by his parents, which was very kind of them for me to feel the hospitality and culture of a Nakhchivan household. I was offered some delicious dolmas and we chatted a lot about Bollywood, which seemingly people of Nakhchivan like a lot.
I was truly amazed by how untouched Nakhchivan was and still so modern in its outlook. Isolated but so warm within. People are so friendly and full of love, making friends was like a smile away. I came as a paranoid traveller and left with happy memories and a heart full of love. I wish to come back soon and see how I can be more helpful towards bringing Nakhchivan to the world for the potential it holds as a region of fantastic people.
Debarchan Biswas is an Indian businessman. He travelled to Azerbaijan on September 15-17. 
More about: Azerbaijan