Additional security forces deployed outside a university in Tehran to prevent protests, a day after hundreds of people took to the streets of the capital to express their anger at what they called lying and incompetence by the country's leadership. All 176 people on board the Boeing Co. 737-800 airliner were killed, including dozens of Iranians.
Anger over the unintentional strike places further pressure on Iran's leaders, already challenged by the U.S. sanctions that have prompted an economic crisis and helped trigger public protests. As domestic anger simmered, Iran faced more criticism for its handling of the protests.
President Trump tweeted in Persian his support for the protests on Saturday, then appealed Sunday to Iran's leadership: "DO NOT KILL YOUR PROTESTERS," he tweeted. "Thousands have already been killed or imprisoned by you, and the World is watching. More importantly, the USA is watching. Turn your internet back on and let reporters roam free! Stop the killing of your great Iranian people!"
Tehran's admission came after its denial of Western claims that the plane had been hit by an Iranian missile. The military shot down the plane Wednesday as its air defenses were on high alert for a potential U.S. response, hours after launching missile strikes against U.S. forces in Iraq in retaliation for the killing of a top general.
The commander of Iran's Islamic Revolutionary Guard Corps said he wished he had been on the plane so he wouldn't have felt so ashamed in front of the nation. Maj. Gen. Hossein Salami's comments, delivered in a closed session to his deputies on Sunday and reported by the semiofficial Fars news agency, appeared aimed at alleviating some of the anger at the country's leaders.
Tehran's admission came after its denial of Western claims that the plane had been hit by an Iranian missile. The military shot down the plane Wednesday as its air defenses were on high alert for a potential U.S. response, hours after launching missile strikes against U.S. forces in Iraq in retaliation for the killing of a top general.
The British ambassador to Iran, Rob Macaire, was briefly detained during protests. Mr. Macaire on Sunday denied taking part in the demonstrations outside the Amirkabir University of Technology in Tehran.
He said he was in the area to attend a vigil for the victims of the plane crash and left as soon as people started chanting slogans, but was detained 30 minutes later. A British official said that Mr. Macaire was arrested at a barbershop while making his way back to the embassy.
"He wasn't detained, but arrested as unknown foreigner in an illegal gathering," Iranian Deputy Foreign Minister Abbas Araghchi said on Twitter. "When police informed me a man's arrested who claims to be UK Amb, I said IMPOSSIBLE! only after my phone conversation w him I identified, out of big surprise, that it's him. 15 min later he was free."
Iran's foreign ministry on Sunday summoned Mr. Macaire, saying that the presence of foreign ambassadors in what it called illegal gatherings contradicted the Vienna Convention, and demanding an explanation from the U.K. government, according to Iran's ISNA news agency.
U.K. Foreign Secretary Dominic Raab sharply rebuked Iran for the detention, calling it a flagrant violation of international law.
"The Iranian government is at a crossroads moment. It can continue its march towards pariah status with all the political and economic isolation that entails, or take steps to de-escalate tensions and engage in a diplomatic path forwards," Mr. Raab said.
The detention of Mr. Macaire and Iran's delay in admitting to shooting down the plane is threatening Iran's relations with its European partners, on whom it relies to avoid international isolation and to keep alive the 2015 nuclear deal, which the U.S. left in 2018. The Trump administration has imposed harsh economic sanctions aimed at forcing Iran to curtail its nuclear and conventional weapons programs and rolling back its military presence in the Middle East.
Josep Borrell, the European Union's foreign policy chief, said he was "very concerned" about the detention. "Full respect of the Vienna convention is a must. The EU calls for de-escalation and space for diplomacy," Mr. Borrell said on Twitter. The 1961 Vienna Convention on Diplomatic Relations allows diplomats to perform their function without fear of coercion or harassment by the host country.
Amid the tensions with Europe, Qatari ruler Tamim bin Hamad al-Thani landed in Tehran to meet Iranian President Hassan Rouhani, his first visit since becoming emir in 2013. Qatar has good relations with both Washington and Tehran and has previously made efforts to mediate between the two.
Iranian Foreign Minister Javad Zarif also on Sunday visited Oman to offer his condolences for Sultan Qaboos, the Gulf state's leader who was announced dead on Saturday, and to meet with his successor, Haitham bin Tariq al-Said, according to Iran's foreign ministry. Oman has also in the past mediated tensions between Tehran and Washington but no further details were published about Mr. Zarif's visit.
The anger in Iran stood in contrast to the massive show of national unity only days earlier, when hundreds of thousands of Iranians came together in multiday funeral processions for Maj. Gen. Qassem Soleimani.
Iran's admission came only after Ukrainian investigators on the ground found evidence that the crash was due to a missile strike, according to Ukrainian officials. They said the evidence forced Tehran's hand to admit it accidentally shot down the jet.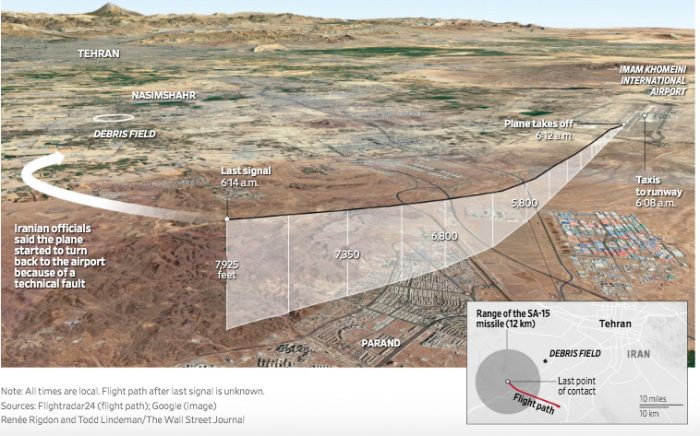 A team of 45 experts from Ukraine arrived on the scene less than 24 hours after the crash and began sending hourly reports to Kyiv. By late Friday, based on evidence from the team and information shared by the U.S. and other Western nations, Ukraine had concluded that the most likely reason for the crash was a missile strike, according to a person familiar with the matter.
Ukraine is continuing with its investigation of the crash, Ukrainian Prime Minister Oleksiy Honcharuk said.
Ukrainian President Volodymyr Zelensky said Kyiv insisted on an official apology by Iran and expected Tehran to punish those responsibly.
The Iranian acknowledgement will lessen the importance of an international investigation, which was just starting to take shape, as it rules out the role of any mechanical issue resulting in the disaster.
The downing of the Ukrainian jet isn't the first time tensions between the U.S. and Iran have led to an aviation tragedy. In 1988, the U.S. Navy's USS Vincennes warship downed Iran Air Flight 655 with an air-defense missile.
U.S. officials said they mistook the Airbus SE A300 airliner for a warplane they feared would attack the ship. All 290 people, mostly Iranian, on the plane died, prompting an outpouring of national grief in Iran. The U.S. agreed to pay compensation to Iranian victims nearly a decade after the incident.
The Wall Street Journal
More about: Iran