The Instagram post reads: "I express my deep gratitude to fraternal Turkey! Our countries are always there for each other - both on joyful days and on hard days. This is our unity, our strength! I wish our nations good health, our countries - peace and prosperity! May Almighty God protect our world!"
Note, Turkey displayed digital versions of Azerbaijani an Turkish flags late Monday on Atakule, symbol of the Turkish capital, to highlight their solidarity in combating the novel coronavirus.
The tower displayed the words of the national leader of Azerbaijan Heydar Aliyev "One nation, two states!", and followed by "Dear Azerbaijan with love" with colored lights. 
On April 11, projection of the Turkish flag was placed on the Heydar Aliyev Center's building in Baku, Azerbaijan within joint combat with COVID-19.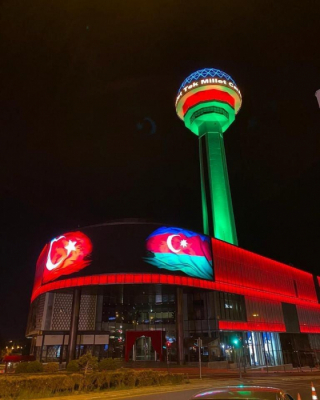 More about: #Azerbaijan #Turkey