A statue to Indian Independence leader Mahatma Gandhi was again desecrated in Yerevan because Armenians suspected him of sympathizing with Turkey.
New photos were disseminated on social media, in which the statue was engulfed in fire. The burning of the monument to the caretaker leader of India, located in the area of Yergani Halabyan intermediate park on Margaryan street has again caused a stir in the press and in the Armenian domain of social networks.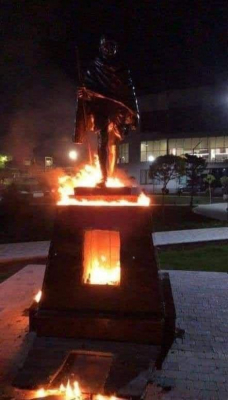 3 days ago, on the 26th of April, Armenians threw chicken eggs at the monument. After a while, they recaptured a part of the cladding and destroyed a table with the name of Gandhi from the pedestal just because he made friends with the founder of the Turkish Republic Mustafa Kemal Ataturk and opposed the so-called "Armenian genocide".
It should be noted that the monument was erected last year on the occasion of Gandhi's 150th anniversary and the statue has not been officially inaugurated yet. Though the Indian side has undertaken all the necessary expenses.
While commenting on the fact of vandalism against Gandhi's monument Shoaib Khan, a researcher at the Center for Central Eurasian Studies at the University of Mumbai said, the desecration of the memory of a person of such significance for India is an insult to the country.
"When the British ruled India as a whole our people were fighting against the British imperialist forces for our independence. In the war Turkey was on the opposite side of the British, Indians were expected to support Turkey and any country opposing British imperialism…If because of this reason, the Armenians are vandalizing the statue of Gandhi then I think the Armenian people have gone crazy," he said adding that Armenians are unable to accept their failure in Karabakh War.
"Gandhi or any leader from the subcontinent of that time never criticized or used any evil words against the Armenian community. I think Armenian people like their Government and are unable to accept their humiliating defeat at the hands of Azerbaijan. They are helpless and taking out their anger by such actions…"
Note, Mahatma Gandhi is an Indian political and public figure, one of the leaders and ideologists of the movement for the independence of India from Great Britain. His philosophy of nonviolence (satyagraha) influenced the movement for peaceful change. On the issue of Middle East policy, Gandhi and the Indian National Congress led by him supported the indivisibility of Turkey in spite of the British colonial policy, avoiding the topic of the "Armenian genocide" and not supporting the Treaty of Sevres.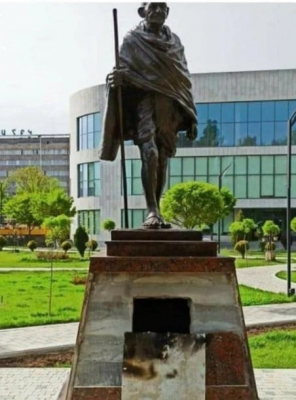 More about: #MahatmaGandhi