The Pakistan Research Centre for a community with Shared Future (PRCCSF) was ranked No. 1 out of 17 Research Centers operating in 155 partner countries of the Belt and Road Initiative (BRI) during the International Think Tank Forum 2023 in Wuhu, China on Thursday.
The center was awarded the top position due to its role in enhancing research and academic cooperation, promoting the concept of a shared future not only in Pakistan but also globally, and contributing significantly to the BRI and connectivity, as well as strengthening people-to-people ties.


Executive Director PRCCSF, who was representing Pakistan at the forum, told that the Institute for a Community with Shared Future Beijing brought together 17 thinktanks from across the world, who are working on connectivity through the BRI and Community of Shared Future.

"It's my proud privilege to announce that Pakistan Research Centre for a Community with Shared Future has been declared as the best center in the world and we are given first position."
Speaking at the International forum, Executive Director PRCCSF highlighted that cooperation under the BRI spans various levels, from global coordination recognized by the United Nations to regional initiatives like the UN 2030 Agenda for Sustainable Development and the ASEAN Connectivity Plan.
"Whereas, at the bilateral level, China's collaborations with countries like Russia, Kazakhstan, Turkmenistan, Mongolia, Indonesia, the Philippines, Vietnam, South Africa, Egypt, and Saudi Arabia are shaping future economic development and regional integration."

He said, "to date, China has signed more than 200 BRI cooperation agreements with over 150 countries and 30 international organizations across five continents. A robust long-term mechanism for policy coordination is in place, with multiple channels for communication among different parties, facilitating diplomacy and strategic cooperation."

"International organizational cooperation is also on the rise, with over 80 countries and international organizations subscribing to China's initiative on promoting unimpeded trade cooperation along the BRI," he further added.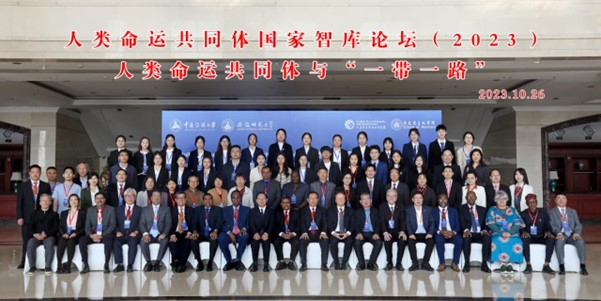 The Pakistani expert emphasized that the signing of free trade agreements and collaboration in customs inspection and quarantine procedures has improved efficiency at border ports and trade and investment platforms have emerged as pivotal tools for promoting global cooperation.

He underlined that the BRI has become a symbol of economic growth, global connectivity, and cooperation. Its historical roots, fostering economic globalization, supply chain contributions, and collaboration at various levels, underscore its importance.

The International Think Tank Forum 2023, titled "Building a Community with Shared Future & Belt and Road Initiative," was arranged by the Communication University of China, Beijing and Anhui Normal University Wuhu.
More about: