Making carpets has been a part of Azerbaijani culture since time immemorial. Carpets occupy a preeminent place among all the examples of Azerbaijani craftsmanship. The early emergence of the art of knotting carpets is tied closely to sheep raising traditions and the availability of natural dyes in the region – fig leaves for ochre colors, madder for reds, saffron for golden yellow hues, pomegranate peels for reddish browns.
Carpet making in Azerbaijan is a family tradition transferred orally and through practice. Men shear sheep in spring and autumn, while women collect dyestuffs and spin and dye yarn in the spring, summer and autumn. In the past every young girl had to learn the art of weaving carpets, and the carpets she wove became a part of her dowry. In the case of a newly married son, it was his mother who wove a large rug for his new household.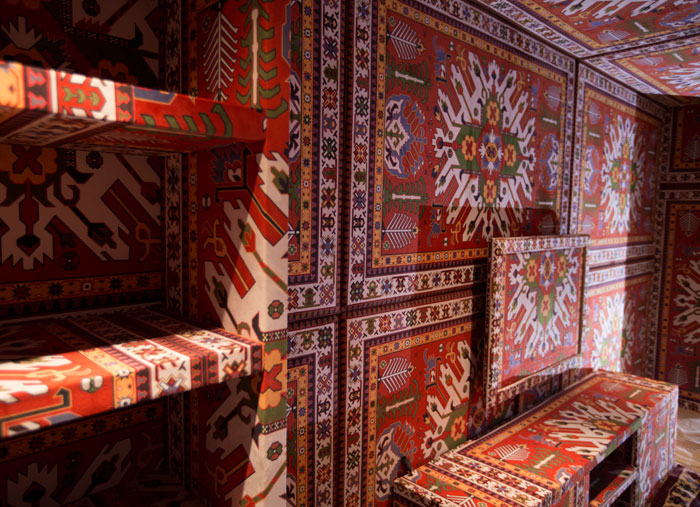 Starting a new carpet means a feast, but the completion of a rug means an even greater celebration for the family. In the old days finished carpets were laid out in front of the house so that passers-by with the weight of their feet could make them even tighter than they had already been knotted.
Although carpets from the different regions of Azerbaijan are often very different in appearance, some characteristics are common to all Azerbaijani carpets – the designs do not take perspective into account and they do not have a background. The carpet artist brings all design elements into the foreground because all the figures are equally important.
Azerbaijani carpets are classified under four large regional groups, i.e.
Quba
-Şirvan, Gəncə-Qazax, Qarabağ, and Təbriz. The rugs made in Təbriz (these days in Iran) very often appear on the European market with "Iran" given as their place of origin.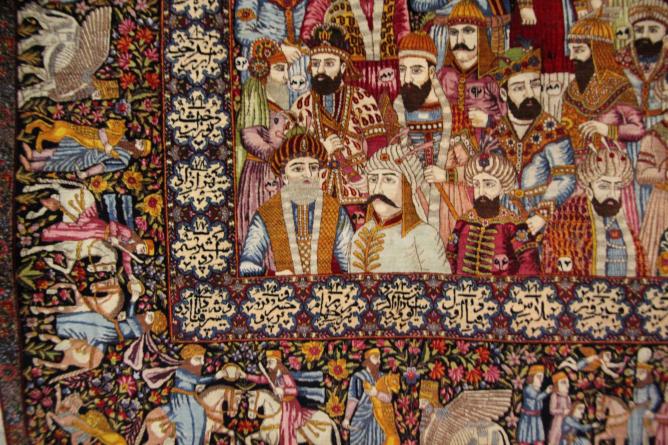 A visit to the State Museum of Azerbaijani Carpet and Applied Art in Bakı, which is named after Latif Karimov -one of the greatest carpet designers of Azerbaijan- and has the largest collection of Azerbaijani carpets in the world, demonstrates the great tradition of the carpet knotters' art and how far back it reaches in history.
Paintings by the old European masters bear witness to the fact that carpets made in Azerbaijan had already reached Europe over old trade routes like the Silk Road and graced the royal houses and palaces of kings. For example, Hans Holbein's "The Ambassadors", the Flemish artist Jan van Eyck's "The Madonna with Canon van der Paele" or the "Madonna" by the Italian painter Pinturicchio. Azerbaijani carpets are displayed in the great museums of the world, e.g., the Textile Museum in Washington DC, the Hermitage in St. Petersburg, the Victoria and Albert Museum in London, and the Louvre in Paris. In 2010, the traditional art of Azerbaijani carpet weaving was inscribed on
UNESCO
's Representative List of the Intangible Cultural Heritage of Humanity.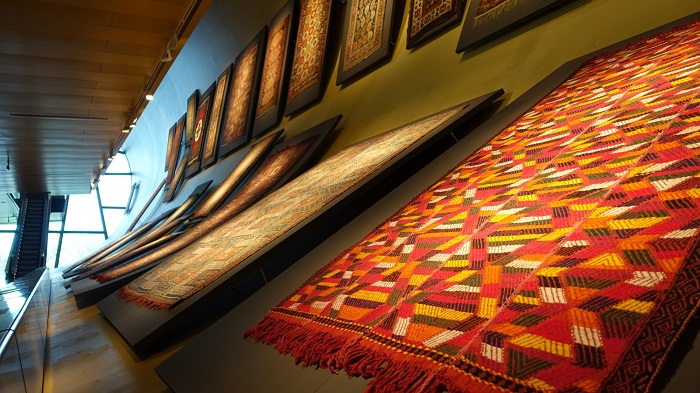 Photo