The story is that a shepherd accidentally lit the fire in the 1950s and since then the hill or better the small formation of rocks is burning, fired by gas emanating from natural resources. Yanar Dağ is another contemporary evidence of the oil and gas richness on Absheron. While Ateshgah, the fire temple, is now fed by a gas pipe, Yanar Dağ claims to be a natural phenomena.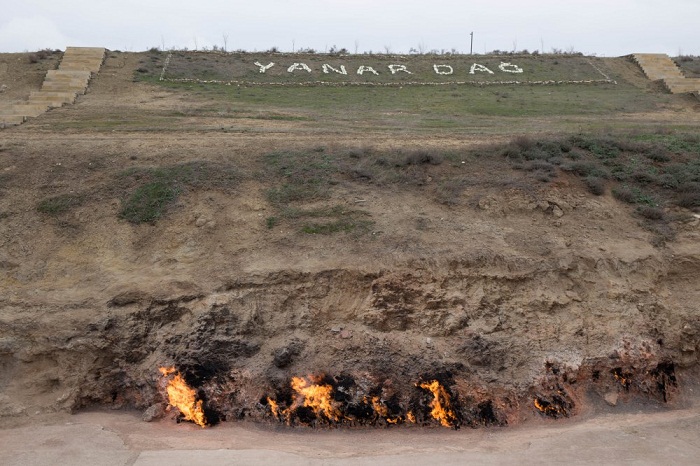 Yanar Dağ is one of the big attractions outside of Baku as indicated by the big sign as "state historic cultural and natural preserve". This impression was hold up by a guard/guide who accompanied me on my small tour to the Burning Mountain. Our communication was limited and yet it was important for him to establish common ground that Azerbaijan is a beautiful country. While I agree on this in general, Yanar Dağ is not the place to support such a statement. The infrastructure around the burning part of a hill is rather dull, there is the smell of oil – so common on Absheron – and a pathetic mixture of exhibition and tourist shop in the round structure close to the hill. And the place that guide books claim to be a tea house, was closed.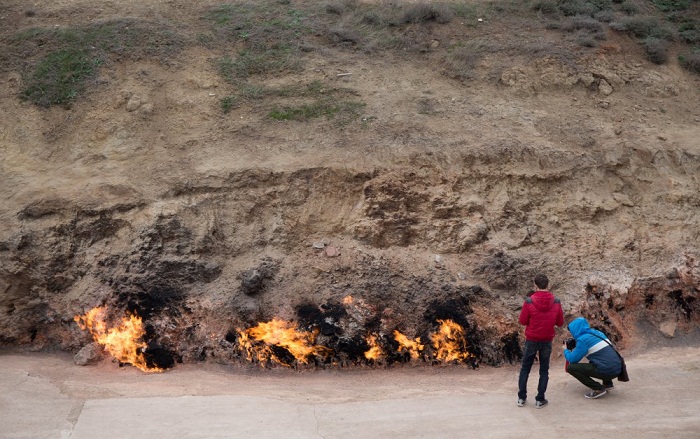 The fire itself is impressive and unfortunately pictures lack the sound of flames licking into the air as well as the smell of oil. When you are there at the right, meaning cold season, it is quite accommodating. I was there in early March, still cold, and getting close to the fire was a treat – so comfortably warm. Indeed, yanar dağ is a natural phenomenon that requires all of our senses to appreciate.
More about: