Ukraine's parliament approved the new Cabinet of Ministers at the Dec. 2 evening session. For the first time in history, three portfolios were given to the nationals of Georgia, Lithuania and the U.S. who were granted Ukrainian citizenship by the president earlier on the same day.
"I'm strictly in favor of the idea that we have to accept the best foreign experience, of bringing the best representatives of partner states to our government," President
Petro Poroshenko
said, speaking in parliament.
The most prominent former foreigner in the government is Natalie Jaresko, formerly a U.S. national of Ukrainian descent. She became finance minister. Previosly, she was the founding partner of Horizon Capital, a private equity fund operating in the Eastern Europe.
In her remarks in parliament, Jaresko said Ukraine`s 2015 budget will be prepared by Dec. 20. She also said she wanted to change the tax code to increase budget revenues, and tackle corruption.
A former citizen of Georgia, Alexander Kvitashvili took over the Health Ministry. He studied in the U.S. and headed the Georgian ministry of labor, health and social affairs in 2008, under President
Mikheil Saakashvili
.
Aivaras Abromavicius, formerly of Lithuania, received the office of the economy minister. Having studied in Estonia and the U.S., Abromavicius worked for East Capital, a Swedish investment house.
Poroshenko asked the parliament to reappoint Pavlo Klimkin as foreign minister and Stepan Poltorak as defense minister - and both kept their offices.
Prime Minister
Arseniy Yatsenyuk
, whose was re-appointed by the parliament on Nov. 27, proposed the rest of the candidates for seats in Cabinet. Parliament was offered to vote for them as a group, while members of this group have been subject to negotiations between the coalition parties. Each of the candidates delivered a small speech.
Despite criticism of his performance, Arsen Avakov stayed on in government as its interior minister and Pavlo Petrenko - as justice minister. Both were supported by Yatsenyuk who says new Cabinet will have to pass "the most decisive reforms" next year that he expects to be even harder than this year.
Serhiy Kvit has kept the post of education minister.
Vyacheslav Kyrylenko, member of parliament with People's Front party, became deputy prime minister for cultural affairs. He had a similar job in 2005, after the
Viktor Yushchenko
-led Orange Revolution.
Hennadiy Zubko, first deputy head of
Presidential Administration
, was appointed deputy prime minister in charge of decentralization. Third deputy prime minister seat with power over transportation industry went to Valeriy Voshchevsky, member of Oleh Lyashko`s Radical Party.
Poroshenko Bloc`s Pavlo Rozenko became minister of social policy. Volodymyr Demchyshyn, head of the National Commission on Energy Regulation, was appointed energy minister.
Andriy Pyvovarsky, CEO at Continium/WOG, a chain of gasoline stations, was appointed infrastructure minister.
Graduate of Kyiv-Mohyla Academy who went through studies in the Netherlands, Oleksiy Pavlenko of Samopomich will head the Agrarian Ministry. Previously, he worked at Pharus Assets Management, an investment fund.
Ministry of Ecology will be headed by Igor Shevchenko, a legal expert with Asters law firm. Igor Zhdanov became minister of sports and family affairs. Both come from Batkivshchyna party.
Hanna Onyshchenko, former deputy justice minister, was appointed as Minister of Cabinet of Minister. She represents People's Front.
Moreover, in a controversial move Verkhovna Rada created a Ministry of Information and appointed Yuriy Stets of Poroshenko`s Bloc as its head. The ministry is supposed to take care of information policy related to the war with Russia.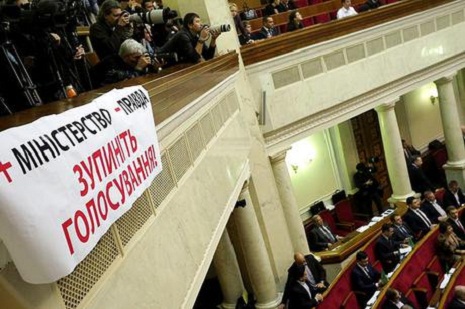 Journalists hanged a banner calling on the MPs to cancel vote on the Information Ministry. © Anastasia Vlasova
However, even Poroshenko`s faction split over the need to have such a ministry, which smacks of Soviet propaganda days. Former investigative journalist Sergiy Leshchenko, who now serves in parliament in Poroshenko`s Bloc, proposed to remove the vote on Information Ministry from the Cabinet package.
He claimed that the new ministry would duplicate the work of other government agencies, such as the National Council on Television and Radio, State Committee on Television and Radio and also the National Security and Defense Council. "We don't need it in fact," he said. "We didn't hear enough arguments in favor of this ministry."
Members of the Opposition Bloc, the most recent version of Viktor Yanukovych`s Party of Regions, protested against bringing former foreigners into the government. "We don't understand why 10 candidates for ministers were not found among 300 members of the government coalition or, moreover, among 40 million people living in Ukraine," said party leader Yuriy Boyko.